So what's the deal here? Are Alabama football players watching television commentator Danny Kanell, generally considered a Bama-hater? Why would anyone hate Alabama football? The Crimson Tide puts a good product on the field, sells out every game home and away, wins games, wins championships, and graduates its players?
But that seems to be the message received by at least some Alabama players.
Minkah Fitzpatrick brought it up in a brief meeting with Bama reporters Saturday before the Crimson Tide went to practice as part of its preparation for its College Football Playoff semifinal game against Clemson in the Sugar Bowl on Jan. 1.
Fitzpatrick said the team was excited to make the playoff. "People were counting us out," he said. "They didn't want us in there. Some people just don't like us. It's true.
"I think that motivates us."
Where did he hear about people hating on Alabama?
"I don't want to talk about that any more," he said.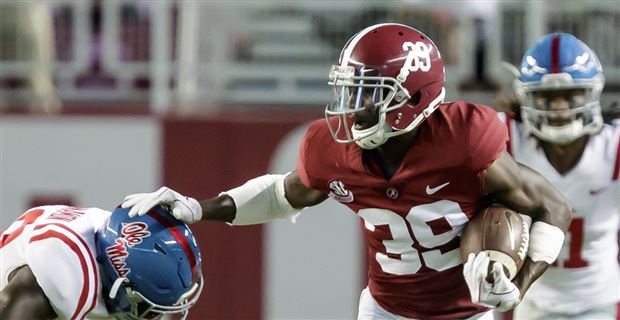 Tide cornerback Levi Wallace went a little more deeply into the subject. When told Fitzpatrick had broached the subject of people not liking Alabama and whether it was a source of pride, or maybe even hurt Bama feelings, Wallace said, "No, not even a little bit.
"I think Minkah's right. We're seen as the villain.
"I'm sure a lot of people don't like Alabama because we're always so good each and every year. That's something Coach Saban has instilled in us — trying to be the best we can be.
"Just being The University of Alabama, whatever you guys say we are, that's what we are, but we're definitely the bad guys in college football."
So if Clemson defeats Alabama for the second year in a row, will the Tigers take over that mantle of a hated team?
"We'll have to wait and see," Wallace said. "Whatever you guys say they are, that's what they are.
"I think the (College Football Playoff selection committee) got it right. We're one of te best teams out there, and I think we're going to go and show improvement on New Year's Day.
"I think all four teams that are in the playoff are the best four teams, so you have to go through them. All the teams are great.
"To win the national championship yo have to beat at least two great teams. (These are) the top four teams, and at this point anyone team can win it."
Wallace said that it's not that Alabama has a chip on its shoulder, but then said, "We always play with a chip on our shoulder because we know we're going to get everyone's best each and every week.
"So whatever you guys say we are, we are."
As for quarterback Jalen Hurts, he said he doesn't know if Alabama is the hated team.
"It doesn't matter if we are or if we aren't," he said.