';
}
var sContent = "+
''+
''+
' '+
''+
'
'+
"+
'
'+
'
'+
'
'+sPosTitle+'
'+
'
'+
sImage+
'
'+
'
'+__tnt.truncateStr(oAsset.title,85,'…')+'
'+
'
'+__tnt.truncateStr(oAsset.summary,iTextTrun,'…')+'
'+
'
'+
'
'
"+
'
';
'
';
return sContent;
}
$.get('http://www.oanow.com/tncms/search/mlt/?origin=9bf704f6-95b6-11e7-bbc0-9761105799eb&app=editorial&preview=1&type=article%2Ccollection%2Cvideo%2Cyoutube').then(function(oResponse, sStatus, oXHR){
if( typeof oResponse.assets === 'object' && oResponse.assets.length > 0 ){
var oPrev,oNext = null;
// try to match in index
$(oResponse.assets).each(function(i,oAsset){
if( oAsset.id === '9bf704f6-95b6-11e7-bbc0-9761105799eb' ){
oNext = oResponse.assets[(i+1)];
oPrev = oResponse.assets[(i-1)];
return false;
}
});
// no index match
if( !oNext && !oPrev ){
oPrev = oResponse.assets[0];
oNext = oResponse.assets[1];
// end of list, prev no next
} else if( !oNext && oPrev ){
oNext = oResponse.assets[0];
// start of list, next no prev
} else if( oNext && !oPrev ){
oPrev = oResponse.assets[(oResponse.assets.length-1)];
}
// append links
if( oPrev ){
$('#paging-prev-9bf704f6-95b6-11e7-bbc0-9761105799eb').append(asset_prevNextContent(oPrev, 'prev')).show();
setTimeout(function(){
$('#paging-prev-9bf704f6-95b6-11e7-bbc0-9761105799eb').removeClass('offset');
}, 200);
}
if( oNext ){
$('#paging-next-9bf704f6-95b6-11e7-bbc0-9761105799eb').append(asset_prevNextContent(oNext)).show();
setTimeout(function(){
$('#paging-next-9bf704f6-95b6-11e7-bbc0-9761105799eb').removeClass('offset');
}, 200);
// fix conflicting content
$('.share-container.headline-right').addClass('hidden-sm');
}
// bind tracking event handlers
$('#asset-paging-9bf704f6-95b6-11e7-bbc0-9761105799eb a').on('click', function(e){
var sAction = ($(this).data('direction') === 'right') ? 'next' : 'previous';
__tnt.trackEvent({'category':'tnt-prev-next','action':sAction, 'label':'article', 'value':'1′});
return true;
});
}
}, function(){
__tnt.log('Error: '+ sStatus);
});var bPrevNextScroll = false;
$(window).on('scroll mousewheel', function(){
if( !bPrevNextScroll && $('.asset-body').length > 0 && !$('body').hasClass('trigger-disabled') && !__tnt.elementOnScreen('#asset-photo-carousel') ){
bPrevNextScroll = true;
var sNextTrigger = 'trigger-next';
setTimeout(function(){
if( __tnt.elementOnScreen('.asset-body', 250) ){
$('body').removeClass(sNextTrigger);
} else {
$('body').addClass(sNextTrigger);
}
bPrevNextScroll = false;
}, 200);
}
});$(window).on("load resize", function(){
var sCondTrigger = 'trigger-condensed';
if( window.innerWidth > 991 && window.innerWidth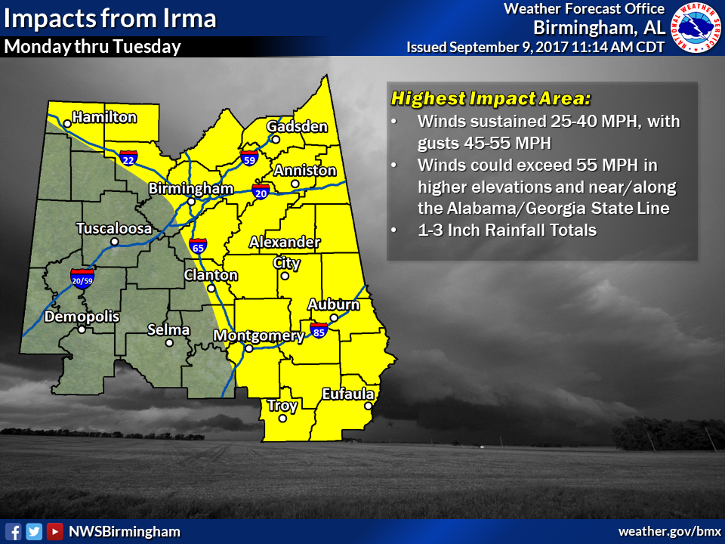 Auburn University announced Saturday evening that classes will be canceled and normal operations suspended on Monday, due to the expected impacts of Hurricane Irma.
The closings do not include residence halls, which will be open for campus residents only. Limited campus dining venues will be open on Monday for on-campus residents. Students are advised to check the campus dining app or go to www.auburn.ed/dining for information on open venues.
Auburn also said in its release that since the track and intensity of this storm may change, any decision regarding Tuesday operations will be made by 5:00 p.m. Sunday and communicated to the campus.
Opelika City Schools issued a statement Saturday indicating that it will make a decision regarding school closings and announce the plans by 1:00 p.m. Sunday.
No information was released by Auburn City Schools regarding its schedule of  Monday classes.