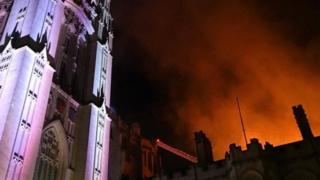 Fire crews are tackling a large blaze at the University of Bristol.
The university said everyone had been accounted for after the fire took hold at its Fry Building, which has been undergoing refurbishment.
A number of study areas were evacuated, the university library tweeted.
Several roads around the campus have been closed, including Park Row and Woodland Road, and police are at the scene.
Jonathan Holmes, BBC Radio Bristol
I'm standing opposite the Wills Memorial building – the main building here at the university.
There is smoke coming out of what appears to be the roof space of a building behind me. I could see the roof well alight and dozens of students are here wondering what is happening.
There's a helicopter above with a spotlight trained on the university.
Police are closing several roads and the air smells strongly of smoke and burning.