Had we decided, four years ago, to begin ranking the best coaching and support staff talents in college football, Oklahoma's current head coach Lincoln Riley — formerly the offensive coordinator at East Carolina — would have made the cut.
That's an eye-opening testament as to how college football is increasingly a young person's game. Of the 22 head coach hires this offseason (not including Ole Miss), the average age was 45.7, with four under the age of 40. It's fair to say that our inaugural 30Under30 is a prospects ranking of sorts for coaches: Using our network of contacts, team-site based reporters and college football SIDs, we asked: Hey, who on your staff is going to be a star? Why? And are they under 30?
After casting out the net, we found we had to expand our criteria. There are so many essential non-coaching personnel that dot a college program's staff, whether they're responsible for the recruiting department, or maybe they're running the day-to-day show as the head coach's right-hand man, or perhaps it's their creative vision that's changing the way fans (and recruits) see their program. We wanted this list to also recognize them.
Without further ado, here's the 30Under30 for 2017, presented in alphabetical order:
Ben Armer, Ball State, Director of Strength and Conditioning (28): A former punter (yes, punter) at Western Michigan who's entering his second season as the top dog of Ball State's S&C program for football — a rare and impressive feat for a twenty-something.
Pat Bastien, Georgia Southern, Linebackers Coach (26): A former captain at UAB, Bastien's already put two linebackers in the NFL from Georgia Southern. Ukeme Eligwe was taken in the fifth round of the 2017 NFL Draft, and Ironhead Gallon signed with the Colts as an undrafted free agent. Both had more than 100 tackles in 2016.
Kodi Burns, Auburn, Co-offensive Coordinator/Receivers Coach (28): It doesn't feel like too long ago Burns was catching a touchdown pass from Cam Newton in the 2010 BCS Championship. Burns has fit plenty into his coaching resume since then: Graduate assistant at Arkansas State and Auburn (both with Gus Malzahn), running backs coach at Samford, wide receivers coach at MTSU, running backs coach at Arizona State. He returned to The Plains in 2016.
Austyn Carta-Samuels, Missouri, Recruiting Coordinator (26): A former starting quarterback at Vanderbilt, Carta-Samuels is a key part of Missouri's recruiting shop under second-year head coach Barry Odom.
Cort Dennison, Louisville, Linebackers Coach/Recruiting Coordinator (28): An all-conference linebacker for the Washington Huskies, Dennison has been working his way up the ranks on Bobby Petrino's staff since his days at Western Kentucky. Dennison added Director of On-Campus Recruiting to his resume beginning with the 2016 season.
RELATED 30Under30 Content | Dennison's on the right track
Kenny Dillingham, Memphis, Quarterbacks/Tight Ends Coach (27): Dillingham is about to begin his first season as a full-time Memphis staffer after having worked as a graduate assistant on staff as the Tigers' quarterbacks coach in 2016. In that capacity, he helped guide junior college transfer Riley Ferguson to a 3,698-yards and 32-touchdown season. He also helped Memphis recruit in the state of Oklahoma, while not being able to travel to recruit.
Jeff Faris, Duke, Receivers Coach (27): Faris, is a native of Knoxville, Tenn., who graduated from Duke with a degree in economics in 2012 as a member of the football team. He transitioned to the Blue Devils coaching staff the summer after his graduation, working as a GA. In 2015, he was promoted to wide receivers coach, in time for the final season of Jamison Crowder's record-setting college career.
Matt Guerrieri, Duke, Safeties Coach (27): Guerrieri was a three-year letterman at safety for Davidson College before joining the Duke staff as a graduate assistant in 2012. Guerrieri earned a promotion to safeties coach in 2015, the same year that saw Blue Devils safety Jeremy Cash become the ACC defensive player of the year.
Annie Hanson, North Carolina, Assistant AD Recruiting Operations & External Affairs (27): Helped North Carolina sign a pair of Top 32 classes in 2016 and 2017 as the Tar Heels Director of On-Campus Recruiting. Recently promoted to Assistant AD, where she also helps UNC's 27 other programs with best recruiting practices while also serving as a liaison for high school coaches, prospects and their families. Hanson also holds a significant role in fundraising. A former Assistant Director of Development at Oklahoma (her alma mater), Hanson's also worked with Kansas State, Nebraska and the Jacksonville Jaguars. She's was an All-Big 12 track and field athlete.
Matt Lindsey, South Carolina, Director of Player Personnel (26): Lindsey joined the Gamecocks' staff in 2017 after serving as the Philadelphia Eagles' college scouting coordinator. In his current role, Lindsey oversees all recruiting services and recruiting videos and identifies potential student-athletes for the coaching staff.
Dennis Johnson, LSU, Outside Linebackers Coach – (28): Johnson has quickly ascended from a graduate assistant on the previous staff to one of the premier recruiters in the game under Ed Orgeron. Johnson was instrumental in stealing K'Lavon Chaisson away from Texas in February and is ranked No. 29 in the 247Sports recruiter rankings for the class of 2018.
Justin King, South Carolina, Associate AD for New & Creative Media (29): Hired by his alma mater this winter to give South Carolina's stale brand a boost, King is not simply great with a video camera. He knows online media — having spent years at AL.com and Saturday Down South — and understands what will and won't work. His recent spoof on Last Chance U's opening bit was a hit.
Collin Klein, Kansas State, Quarterbacks Coach (27): A 2012 Heisman Trophy finalist and arguably the best signal caller in Kansas State history, Klein is back in Manhattan coaching quarterbacks. After a short pro career, Snyder named Klein a graduate assistant in 2014. Two years later, Northern Iowa tabbed Klein as its QB coach. But when the Wildcats had an opening staff this offseason, Bill Snyder asked Klein to return. Now, at 27, he's one of the youngest position coaches in the FBS.
Related 30Under30 Content | Snyder says Klein's a natural in his career path
Jacob LaFrance, UTSA, Director of Player Personnel (27): LaFrance's career started at LSU as a student assistant, and it's blossomed in a short time to the point he's Frank Wilson's right-hand man. He runs UTSA's recruiting operation — doing everything from evaluating film to keeping in contact with prospects — and helped the Roadrunners sign the top-rated class in school history in 2017. Said Wilson of LaFrance: "In my mind, he was the sharp young guy one day I'd go back and get."
D.J. Looney, Mississippi State, Tight Ends Coach (28): Looney did a five-year internship elsewhere, but he always wanted to be back at Mississippi State. A Bulldog player through 2010 and a graduate assistant right after, Looney left Mississippi State in 2012 for a job at East Mississippi Junior college. In his second season there, EMCC won a national title. Then came stops at Central Arkansas (TEs/Tackles) and Georgia (GA). Now Looney is back under Dan Mullen's tutelage.
Fernando Lovo, Texas, Assistant AD for Football Operations (29): If college football is about who you've worked with, Lovo can claim the best. A University of Florida graduate, Lovo worked for five seasons with Urban Meyer's Gator program. When Meyer moved to Ohio State, Lovo moved with him as Ohio State's Football Operations Coordinator. When Tom Herman got his first head coaching job at Houston, he took Lovo with him as his Assistant AD for Football Operations. Now, he's got a political-centric title of Chief of Staff (aka football operations) at Texas where he has a hand in every aspect of Texas' program.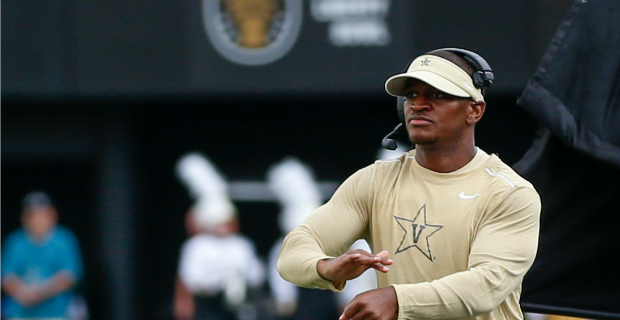 Chris Marve, Vanderbilt, Linebackers Coach (28): Marve is a former Vanderbilt linebacker, having captained the Commodores' defense under Robbie Caldwell and James Franklin. He was a quality control coach on Derek Mason's initial Vanderbilt staff and has since climbed the ranks, coaching Zach Cunningham to an All-SEC season and a second-round selection in the 2017 NFL Draft.
Drew Mehringer, Texas, Receivers Coach/Pass game Coordinator (29): Mehringer's already been more than a position coach. He spent 2016 as Rutgers' offensive coordinator … where, yes, he oversaw the worst scoring offense in football. Mehringer took a less-than-lateral move to reunite with Tom Herman in Austin, banking on such a job having a higher ceiling than his situation in New Jersey. The Rice alum currently ranks as the No. 14 recruiter in the nation, per 247Sports' Recruiter Rankings, thanks to an electric 2018 crop of Longhorns wideout commits.
Alex Rios, Southern Cal, Director of Recruiting (26); Eric Ziskin, Southern Cal, Asst. AD/Recruiting & Player Personnel (28): This tag-team — called the "heart and soul of the USC recruiting department — appears collectively, but we've counted Ziskin and Rios separately for this list. Rios, the Director of Recruiting, and Ziskin, the assistant personnel director, are co-workers, close friends and even neighbors. They each have had interesting routes to USC, where they now maintain the Trojans' recruiting stranglehold out West. You can read more about them here.
Drew Schlosser, Oklahoma State, Creative Director (27): Schlosser headed up the graphics for Houston's #HTownTakeover social campaign that helped amplify the success Tom Herman was having with the Cougars in 2015 and 2016. Power 5 programs were inquiring about Schlosser's services regularly, and Houston was happy to hang onto the graphic designer as long as they did. In May, Schlosser took a promotion to be Oklahoma State's creative director for football.
Glenn Schumann, Georgia, Inside Linebackers Coach (27): Prior to joining Kirby Smart's Georgia staff, Schumann had been an Alabama staffer dating back to 2008. Schumann came to the Bulldogs as a linebackers coach after having occupied off-the-field roles in Tuscaloosa. 
Austin Silvoy, MTSU, Receivers Coach (27): Silvoy's taken a winding road to the FBS. After a successful playing career at Troy, he made stops at Central Oklahoma (2011) and Florida Tech (2012-15) as a wide receivers coach before taking a quality control role with the Blue Raiders last offseason. Rick Stockstill named him wide receivers coach in March, and this year Silvoy will coach All-Conference USA wide receiver Richie James. He's already coached an All-American (Xavier Milton) and an NFL player (Bryce Davis) in his career.
Nick Sheridan, Indiana, Quarterbacks Coach, (29): An offensive GA the last two seasons at Tennessee, Sheridan is a former walk-on Michigan quarterback who followed veteran OC Mike DeBord to Bloomington. His father Bill is the Detroit Lions linebackers coach. Sheridan helped develop Steelers draft pick Josh Dobbs in Knoxville.
RELATED 30Under30 Content | Sheridan adding to family legacy 
Tino Sunseri, Florida State, Offensive Quality Control (28): The son of former Florida State assistant Sal Sunseri, Tino is making a splash in his own right in Tallahassee. A quarterback at Pittsburgh and in the CFL — he won a Grey Cup in 2013 — Sunseri works directly with Jimbo Fisher with FSU's quarterbacks. He's also been building relationships with 2019 recruits; FSU's '19 class ranks No. 2 nationally. 
Zach Swartz, Ohio State, Director of New & Creative Media (29): Swartz, a 2010 graduate of Ohio State, oversees it all for one of college football's giants, while specializing in video. Receiving honorable mention on this list is Sammy Silverman, who's under Swartz, and was one of the instrumental figures in the recent explosion of college programs placing a big emphasis on graphics.
Tyler Tettleton, Oklahoma, Offensive GA (26): Once a record-setting quarterback at Ohio, Tettleton is now working with Oklahoma and helping with one of the most productive offenses in the nation. A Norman native, Tettleton has been with Oklahoma for the past two years. He works closely with Lincoln Riley, and is involved with both the scout team and practice prep.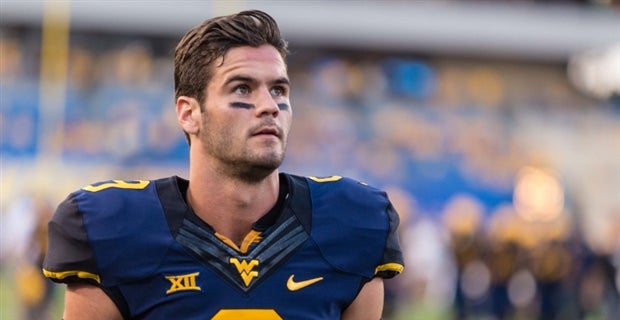 Clint Trickett, FAU, Tight Ends Coach (26): A former quarterback at West Virginia and Florida State and the son of Seminoles o-line coach Rick Trickett, Clint spent two seasons at East Mississippi C.C. — as profiled by Netflix's Last Chance U — and eschewed an offer to be a graduate assistant for Nick Saban at Alabama to join Lane Kiffin in Boca Raton as tight ends coach: He's believed to be the youngest position coach at the FBS level.
RELATED 30Under30 Content | How Trickett ended up at FAU
Scott Unrein, Colorado, Operations & Recruiting Assistant (28): Described as "jack-of-all-trades life saver" for Colorado, Unrein does a little bit of everything for the Buffaloes in split roles between operations and recruiting. On a day-to-day basis, Unrein oversees Colorado's parents program, helps with on-campus recruiting, daily football operations and also serves as the team's social media coordinator. He's in his fifth year in the role after graduating from Colorado in 2011.
Scotty Walden, Southern Miss, Inside Receivers/Tight Ends Coach (27): This list is full of young high achievers, but only one, Walden, has already served as a head coach. A year ago, Walden was the head coach at Division III East Texas Baptist where he was the youngest head coach in the NCAA. That might not even be the most impressive age-related fact about him. As a 22-year-old Walden became the OC at D-III Sul Ross State, and his offense led the nation by averaging 581.9 yards per game. He's set school records at every stop.
Contributors: Steve Wiltfong, Chris Hummer, Barton Simmons, Connor Tapp, Trey Scott.