The writing was always on the wall. After returning to his boyhood club Everton this summer, Wayne Rooney almost signalled that he was looking for a fresh start to life. The disappointments of not getting enough game time at Manchester United and even for the England national team were too much for him.
The prolific England striker, on Wednesday August 23, announced his retirement from international football at the age of 31. 
Rooney is willing to put his focus back to club football and Everton, for sure, are going to reap the benefits of it. He scored for the Toffees in their 1-1 draw against Manchester City on Monday. In the process, Rooney also notched up his milestone 200th Premier League goal.
Wazza, as he is nicknamed, is bowing owing of international football after becoming the topscorer for England, He scored a total of 53 times in 119 internationals matches.
Rooney made his England debut as an 18-year-old at Euro 2004 and played last for the Three Lions in November 2016.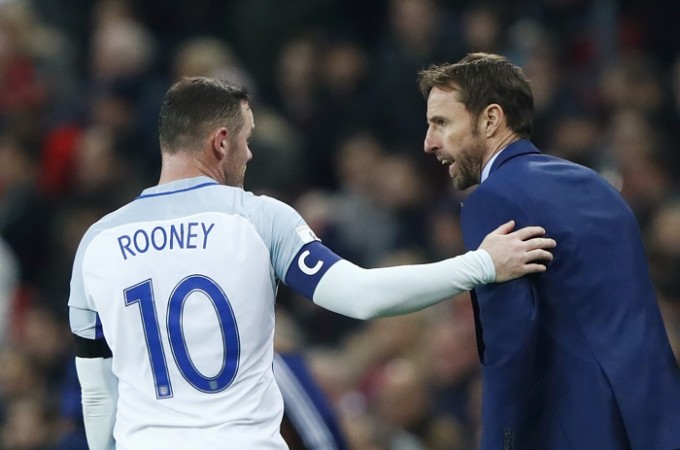 Reuters
Full statement from Wayne Rooney:
It was great Gareth Southgate called me this week to tell me he wanted me back in the England squad for the upcoming matches. I really appreciated that.
However, having already thought long and hard, I told Gareth that I had now decided to retire for good from international football.
It is a really tough decision and one I have discussed with my family, my manager at Everton and those closest to me.
Playing for England has always been special to me. Every time I was selected as a player or captain was a real privilege and I thank everyone who helped
me. But I believe now is the time to bow out.
Leaving Manchester United was a tough call but I know I made the right decision in coming home to Everton. Now I want to focus all my energies on helping them be successful.
I will always remain a passionate England fan. One of my very few regrets is not to have been part of a successful England tournament side. Hopefully the exciting players Gareth is bringing through can take that ambition further and I hope everyone will get behind the team.
One day the dream will come true and I look forward to being there as a fan – or in any capacity.