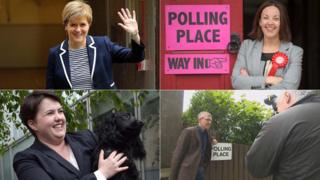 Voters are going to the polls across Scotland in the snap general election.
The UK is voting only two years on from the last national ballot after MPs voted to dissolve parliament.
Scotland's 4,710 polling places opened their doors 07:00 BST, and will admit voters until 22:00.
A total of 59 MPs will be elected to Westminster from Scottish constituencies, with 650 seats being filled across the UK.
There are 3,988,420 people registered to vote in the general election in Scotland.
Nearly 10,000 polling station staff will be on duty, and about 3,000 count staff will help tally up the votes at the end of the night.
Political party leaders were among those casting their votes on Thursday morning.
A Scottish Parliament by-election is also being held in the constituency of Ettrick, Roxburgh and Berwickshire.
Voting in the by-election will take place simultaneously with the general election, with colour-coordinated ballot papers and boxes being used to ensure there are no mix-ups.
Police have stepped up security around the election, with more than twice as many armed officers on duty as on a normal day following the terror attacks in Manchester and London.
But officers have stressed they have no intelligence suggesting an attack is imminent – and they said armed officers would not enter counting centres or polling places, which will have a normal uniformed police presence.
The BBC is not allowed to report details of campaigning while polls are open, and will not report on any of the campaign until polls close at 22:00. Coverage on the day is restricted to uncontroversial factual accounts, such as the appearance of politicians at polling stations or the weather.
Sorry, your browser cannot display this content.