Before Rodgers comes to my house, he stops in a hipster café in my neighborhood (think: exposed brick, single-origin list, baristas with deliberately misshapen haircuts) and texts to ask whether I want a cup of coffee. I tell him I'll just meet him there. When I open the door, I see him sitting in the middle of the store, surrounded by aspiring screenwriters glued to their laptops. All appear to be unaware — or uninterested — that a future Hall of Famer is in their midst.
Rodgers stands, and no one looks up. He smiles.
He's lived in Los Angeles for about three years. While he owns a house in San Diego, he spends pretty much all of his non-helmet-wearing time here. Rodgers likes LA for the same reasons most transplants do: He grew up in a small town and was drafted by a football team in a small town, and aside from the one and a half years he spent at Cal, he'd never experienced life in a city before. He likes it all: the live music, the organic grocery stores, the expectation that he can walk around without being stalked by middle-aged men with Sharpies asking him to sign memorabilia they'll later sell on eBay. Angelenos are, for the most part, pretty chill, he says: "They see a lot more famous and recognizable people than me every day."
When I ask Rodgers whether he dislikes fame, he pauses for a second. He's wary of complaining about his own celebrity, given the attendant benefits. But he admits there are "some things" that cause him discomfort. "Decreased privacy," he says. "And increased strain or pressure or stress associated with relationships. Friendships and dating relationships."
In 2014, Rodgers started dating Munn. (He previously was engaged to a woman he knew from high school, which he's never publicly discussed.) In April, it was reported that the couple had broken up. I ask him what he learned from the experience. "When you are living out a relationship in the public eye, it's definitely … it's difficult," he says, jostling on the sofa and blinking a little, as though I've just pointed a flashlight at his face. "It has some extra constraints, because you have other opinions about your relationship, how it affects your work and, you know, just some inappropriate connections." It seems clear that he's referring to the fans and pundits who asked whether his famous girlfriend might be hurting his performance, so I say as much. He nods, adding, "They're such misogynists, right?"
Rodgers sees the media the way a person strapped to a spinning wheel might regard an amateur knife thrower; he's deeply concerned about his words being carved into fodder for the aforementioned pundits, used to drive news cycles beyond his control. "There's some horrible media outlets that … you say something or do something, where there's a story, and they just go with it and run with it," he says. Rodgers tells me he's gotten better at ignoring his critics, but he admits it's still a struggle. Throughout our conversation, he repeatedly criticizes the media for overblowing storylines, including ESPN (which he refers to several times as "your network").
"When somebody thinks of you a certain way that's not real, or says something about you that's not true, I … you know, that's not me," he says. "You're not seeing me the right way."
Last summer Rodgers found himself in the center of a minor maelstrom when his brother Jordan, who's now a commentator on ESPN's SEC Network, discussed their fractured relationship on TV. For fans who had followed the quarterback's career, the revelation came as a bit of a shock. In years past, his parents had featured prominently in stories about his wholesome upbringing, flanking their son in Arlington. But in January, The New York Times published an interview with his father, Ed, reiterating what Jordan had said. (Jordan and Ed did not respond to requests for interviews.) Afterward, Rodgers told The Times he didn't think it was appropriate to comment on the story. I ask him whether he still feels that way.
"Yeah, I do."
Why?
"Because a lot of people have family issues," he says. "I'm not the only one that does." He tells me he doesn't see any upside in discussing those issues in public. "It needs to be handled the right way."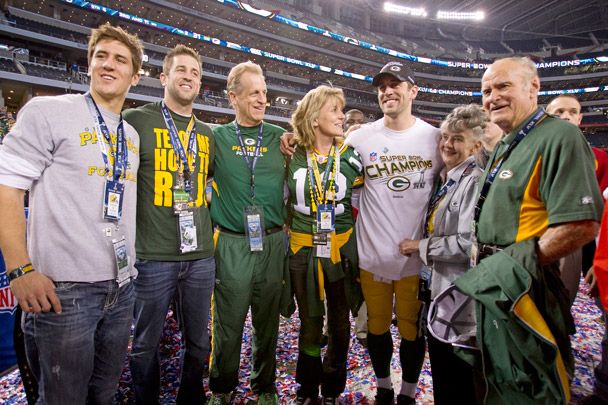 It bears mentioning that Rodgers never pulled me aside to tell me off the record his side of the story (about this or any critique). His belief in the value of privacy is abiding. "I think there should be a separation between your public life and your personal life," he says. "I've just always felt like there should be a time when you don't have to be on."
And yet, in recent months, he's tried to open up a bit more. "I do have a desire to be myself and not have to feel like I've got to be so private," he says. "I think, because I live in a fishbowl, you either kind of internalize everything or you just relax and let life be." He mentions a couple of times that he recently joined Instagram. (Imagine: a famous person who was not on Instagram in 2017.) He's uncomfortable with all of it- — the selfies, the location tagging, the performance of being Aaron Rodgers — but he's doing it anyway because he's found that silence can be suffocating in its own way.
---
Rodgers moved to Green Bay when he was 21. Since then, he has voted in every major election: presidential, local, even the 2012 failed vote to recall Wisconsin Gov. Scott Walker. When I tell him I was surprised by his level of civic participation, he shrugs it off. "I'm a proud Wisconsin resident, so I feel like it's a duty of mine to vote in the Wisconsin elections," he says.
Rodgers tells me that he doesn't identify with any political party but that he believes some issues shouldn't be partisan: climate change, human rights, civil liberties. I ask him if he's wary of possibly having to decide whether to visit the Donald Trump-helmed White House (this year, several Patriots made news when they skipped the NFL champions ceremony) and he grins. "No, because that means we're in the Super Bowl." He adds: "I don't shy away from those things. I think that you just have to think about what you say before you say it. But at the right time, you can say things that have a major impact."
Consider a comment he made two seasons ago, during a news conference after the Packers lost to the Lions. Before kickoff, the team held a moment of silence for the victims of a recent terrorist attack in Paris, and a fan shouted an anti-Islamic comment. When the game ended, Rodgers told reporters that he was disappointed, adding: "It's that kind of prejudicial ideology that puts us in the position we're in today, as a world."
Afterward, he received a letter from then-President Barack Obama, "which is something I still have and means a lot to me," he says. "A lot of times, you'll go back, and even with this interview, I'll go back and say, 'Maybe I should have said this.' But in that moment, I said exactly what I wanted to say."
Rodgers has said he envies the NBA's culture, which enables athletes to speak more freely about social issues. "The guys who are most vocal in the NBA are the best players," he says. When I point out that he obviously falls into that category for the NFL, he says he believes that he can say what he wants but that it has to feel "authentic." He mentions that he's interested in taking on a role in the players' union (he used to be a players' rep), leveraging his unique position to strengthen their cause.
I ask him why he thinks the NFL is more restrictive than the NBA, and he points to the structural differences between the sports: specifically, the absence of guaranteed contracts in football. "[In the NFL], if you're on the street, you're not getting paid unless you have some sort of bonus that goes into another year. So there's less incentive to keep a guy, which gives you less job security. Less job security means you've got to play the game within the game a little tighter to the vest," he says. "Part of it has a really great nature to it — being a good teammate, being a professional — the other part is not being a distraction. And I use 'distraction' as more of a league term."
We talk about his friend and former Cal teammate, recently retired Patriots and Chiefs lineman Ryan O'Callaghan, who came out as gay in June. In an interview on OutSports.com, O'Callaghan described how he feared coming out, even contemplating suicide for years. "I'm incredibly proud of him," Rodgers says. "I know he had a lot of fear about it, and how he would be accepted, and how people would change around him. I think society is finally moving in the right direction, as far as treating all people with respect and love and acceptance and appreciation. And the locker room, I think the sport is getting closer."
He adds that players like O'Callaghan worry about retribution not only from their teammates but also from executives, again pointing to the absence of guaranteed contracts. "There's a fear of job security," he says. "If you have a differing opinion, differing sexual orientation, they can get rid of you. So is it better just to be quiet and not ever say anything? And not risk getting cut, with people saying: 'Well, it's because you can't play'?"
"I think he should be on a roster right now. I think because of his protests, he's not."
– Rodgers on Colin Kaepernick
I bring up Colin Kaepernick. It's July, and the media are still speculating as to why Kaepernick isn't on an NFL roster after kneeling during the national anthem last season to protest racial inequity in policing. The word "blackballed" is being used with greater frequency, though some people in and around the NFL maintain that the quarterback simply isn't very good. I ask Rodgers what he thinks, and he demurs at first, then says it would be "ignorant" to suggest Kaepernick's stance didn't play a role in his employment status.
A few weeks later, he reaffirms his point. "I think he should be on a roster right now," he says. "I think because of his protests, he's not."
Rodgers tells me that while he doesn't plan on sitting out the anthem, he believes the protests — which he describes as peaceful and respectful — are positive, mentioning that he's had conversations with a new teammate, tight end Martellus Bennett, about the issues they represent. "I'm gonna stand because that's the way I feel about the flag — but I'm also 100 percent supportive of my teammates or any fellow players who are choosing not to," he says. "They have a battle for racial equality. That's what they're trying to get a conversation started around."
I ask him what he thinks about that battle — the actual subject of Kaepernick's protest. As always, he pauses to collect his thoughts. "I think the best way I can say this is: I don't understand what it's like to be in that situation. What it is to be pulled over, or profiled, or any number of issues that have happened, that Colin was referencing — or any of my teammates have talked to me about." He adds that he believes it's an area the country needs to "remedy and improve" and one he's striving to better understand. "But I know it's a real thing my black teammates have to deal with."
When Rodgers explains how his worldview has evolved over the past six years, he says he has grown better at seeking out people with backgrounds different from his. He doesn't offer many examples, but Packers receiver Randall Cobb, one of Rodgers' best friends in Green Bay (he was recently a groomsman in Cobb's wedding), describes the quarterback as a "sponge" in all matters, including social issues. "As we've grown closer, I've been able to give him the perspective of a black man who grew up in the South and opened his eyes to the challenges in my life," Cobb says. He adds: "Football is one of the things we rarely talk about when we're outside the building."
---