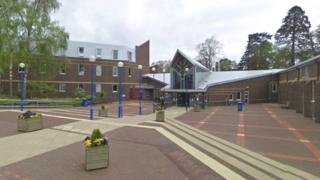 Police are investigating claims that a professor at a university in Edinburgh carried out sexual and physical assaults over a 12-year period.
Kevin O'Gorman was dismissed from Heriot-Watt University following complaints from staff.
Police are looking into allegations he carried out assaults in Glasgow and Edinburgh dating back to 2005.
A spokesman for Prof O'Gorman said he rejected the allegations and would defend himself against the claims.
Before his dismissal, Prof O'Gorman was a director with the school of management and languages at Heriot-Watt and had previously worked at the University of Strathclyde.
Heriot-Watt University launched an internal probe into his conduct after formal complaints were made by staff.
They then referred the results of their investigation to Police Scotland, which said inquiries were ongoing.
'Robustly defending himself'
In a statement, Heriot-Watt University said: "We can confirm that following formal complaints made by staff, the university has carried out an internal investigation.
"This has resulted in a member of university staff being dismissed by the university.
"The matter has been referred to the police and the university is cooperating fully with the police investigation."
The spokeswoman said that the university had acted promptly when the allegations were brought to their attention.
She added: "The welfare of our students and staff is of paramount importance to us, and independent counselling and advice has been made available."
A police spokesman said: "Police Scotland is currently investigating reports of physical and sexual assaults that took place in Glasgow and Edinburgh over the past 12 years.
"Inquiries are ongoing. All reports of abuse are treated with the utmost seriousness and investigated robustly."
In a statement, Prof O'Gorman's lawyer said: "He totally refutes the allegations, which he says are malicious, and he will be robustly defending himself at the appropriate time and place."
As well as its Edinburgh campus, Heriot-Watt University has campuses in the Scottish borders, Orkney, Dubai and Malaysia.