Last Chance U was something of a surprise phenomenon last year as the show opened on Netflix to rave reviews. Focused on East Mississippi Community College in Scooba, Miss., the show captured the win-at-all-costs coach Buddy Stephens, terrific academic counselor Brittany Wagner and a squad of players fighting up from the rungs of small town junior college football to try and earn a shot at the big time.
Thanks to a likable cast of characters, Wagner's brilliance and a newsworthy season — Stephens was ejected for getting into a shoving match with a linesman one game, while a full-team brawl in the final regular season contest resulted in the premature end of EMCC's season — the show took off and was quickly renewed for a second season.
That second season of eight episodes hit Netfflix isn't without its fair share of storylines. Stephens returns after seeing himself in the first season and vowing to curse less and empathize more — see how long that lasts — while Wagner begins to worry about whether she'll reach her potential in Scooba. On the field, the team faces an immediate challenge in that every returning player must sit out the season opener, leaving the Lions vastly undermanned in the very first game.
Here's a look at where each of the stars of the second season of Last Chance U are now.
A Florida State transfer, Johnson made headlines before leaving Tallahassee for all the wrong reasons after he was booted from the team after assaulting a woman at the bar. The second episode of the season focuses heavily on Johnson's situation, with Johnson acknowledging his mistake and his parents expressing their disappointment.
"Let's be real, if that cat wasn't a really good football player we wouldn't be talking to him," Stephens said. "But if he weren't a really good football player, his ordeal wouldn't be making the front page of The Sporting News."
Johnson becomes one of the biggest leaders of the team and appears to be a model citizen during his time at East Mississippi Community College, having such a great season that at times, he's discussed as the best quarterback they've had come through the school in recent years, a list that includes former Ole Miss star Chad Kelly, Mississippi State walk-on Wyatt Roberts and Auburn quarterback John Franklin III. He finishes his junior college career as the No. 42 overall junior college player in the 247Sports Composite.
But even after a great season — and after Wagner said she hadn't seen any EMCC players still penalized for their previous transgressions before heading to campus — the offers didn't materialize. That is until right before junior college early enrollment National Signing Day. Johnson was invited on a visit to Florida Atlantic on Dec. 9, was offered one day later. And despite Lane Kiffin taking over the job on the 12th, Johnson signed with the Owls two days later without ever meeting his future head coach.
Johnson performed well in the spring, and Kiffin has said he's in competition for Florida Atlantic's starting job heading into fall camp.
He won't be in Boca Raton by himself. EMCC offensive assistant coach Clint Trickett accepted a job with Florida Atlantic as tight ends coach, while rush end Tim Bonner signed with Florida Atlantic and graduated in May.
Bonner, who transferred from Louisville to East Mississippi, was seen as one of the team's great raw talents, a player with tremendous burst off the line. But sacks were slow to come for the No. 146 overall junior college player in the 247Sports Composite, as he had to learn to balance his raw ability with technique while also learning to focus and pay attention both on the field and academically.
One of the few holdovers from season one, Wright famously put himself on the kickoff team in the first episode of the series, scoring on a long return and helping to kick the Lions into gear. He also flashed his ability when starting running back D.J. Law went down with a knee injury for a couple games.
Season Two is somewhat of a Greek tragedy for the now-sophomore. He begins as arguably the team's biggest star, earning offers from Florida State and Auburn before producing the highlight of the season when he went airborne over a defender to score a touchdown against Mississippi Gulf Coast. That highlight went viral and even made SportsCenter, with Stephens pointing out Wright at a practice and stating, "He's the one that I think is special."
Things went all downhill from there for the No. 88 junior college player. He and his girlfriend Jazlyn Douglas lost a child together, while Wright's on-field time was cut short by injuries — first concussions, then an ankle sprain — and later his attitude in dealing with those injuries. That caused Stephens to get on Wright at halftime of a big game.
"You don't understand, brother. I'm trying to get you … I'm trying to get you scholarships," Stephens said. "People are going to start taking 'em from you."
Things kept deteriorating to the point that Wright notes that he has two offers left: Louisiana Monroe and West Georgia.
"That's it. All the other ones I had, I don't know where they went," Wright said. "They didn't talk to me. They stopped calling me. Things turned.
"I did my own thing and now that's what I gotta do," Wright said.
Wright signed with West Georgia, a Division II program.
The top-rated prospect on the East Mississippi team as the No. 12 junior college player in the 2017 247Sports Composite, Rivers arrived in Scooba after he was booted off the Georgia team for three marijuana arrests in a seven-month period.
"If you look in the media, my name's just some person who does bad things, a person who just doesn't make great decisions," Rivers said. "So at the end of the day I have something to prove to the world just to get back on top."
True to the Last Chance U name, Rivers made the most of his opportunity, playing well, earning a bushel-full of offers and signing with Mississippi State as an early enrollee.
Allen arrived at East Mississippi with arguably the most serious rap on his sheet, after he was indicted on a second-degree felony burglary of a habitation. Texas Tech proceeded to cut him loose, and it put a serious limitation on his recruitment after joining EMCC.
But Allen is one of the show's more positive stories. Not only does he become a playmaker on the field, but he's a star off it, helping a teammate with algebra homework at one point and getting exceptional grades. Wagner calls him the complete package and even notes that after getting to know Allen, she couldn't believe that his charges were correct.
He's also baptized, causing him to muse on his unique situation.
"Who knew I would have came to Scooba, Mississippi and find Christ and get saved, you know?" Allen asked.
But his incident still follows him around in recruitment, with Allen stating that teams aren't recruiting him because of the perception that "I'm a menace to society."
His old school apparently didn't buy in to that line of thinking, as Texas Tech offered him the opportunity to return, an opportunity that he accepted.
The No. 80 junior college player in the 247Sports Composite, Allen is expected to start at Texas Tech's WILL linebacker position.
The No. 98 junior college player in the 247Sports Composite, Carter shows all the potential of a dominant defensive tackle, which is why he was signed by Penn State out of high school. But after Penn State kicked Carter off the team for violation of team rules, he wound up at EMCC.
Carter said he realized how serious things were when his little brother searched his name online.
"He looked my name up in class to show his friends. The first thing that came up is I got kicked out of Penn State. He called me crying that night," Carter said. "It took me hearing that it hurt somebody else, me getting kicked out, for it to come back and hurt me."
Throughout the season, references are made to Carter's struggles with depression and anxiety, and he's a hit-or-miss presence for much of the year.
While he states at one point that he wants to go to Georgia to be close to his mother, Carter's strong finish to the year ends up with him heading back to Pennsylvania, this time with a scholarship to Pittsburgh.
Others Who Made It
While most of these players played either minor roles — or none at all — on the actual show, they too were able to find their way on from East Mississippi Community College:
DE Rasool Clemons, No. 37 junior college player in 247Sports Composite — Troy
S Brian Cole, No. 46 JUCO in 247Sports Composite — Mississippi State
CB TJ Jallow, No. 57 JUCO in 247Sports Composite — Purdue
OG Tyre Phillips, No. 86 JUCO in 247Sports Composite — Mississippi State
WR Brooks Shannon, No. 141 JUCO in 247Sports Composite — West Georgia
Players to Watch
It's still early in the ranking process for junior college players — many of the top prospects for the upcoming year haven't started yet. And there are only 62 junior college players currently ranked in the 247Sports Composite.
But it would be a surprise if East Mississippi C.C. wasn't loaded yet again. The Lions already have two players ranked in the 247Sports Composite, including defensive tackle Teair Tart-Spencer, the No. 2 junior college player in the 2018 class. Cornerback Travion Williams, the No. 56 overall JUCO player and a Southern Miss commitment, is also ready to rock on defense.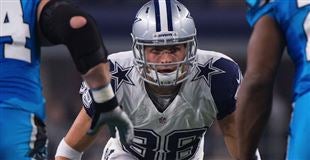 Every NFL team's biggest sleeper heading into training campStart SlideShow
Additionally, keep an eye on quarterback Vijay Miller, who started the first game of the season and had a few positive moments in Last Chance U's second season.