It's pretty rare when a single player's recruitment can drastically swing odds for a potential national championship, but that's exactly the scenario facing Marvin Bagley III.
Currently the No. 1 player in the 2018 247Sports Composite, Bagley will announce a decision Monday night expected to include 1) whether he'll reclassify to the 2017 class and 2) if he does reclassify, which college he'll be plying his trade for.
And here's where things get interesting. Because the 6-foot-10 forward from Sierra Canyon (AZ) isn't choosing between programs that are desperate for his help: Bagley officially visited four schools, each of which are considered at least Top 20 programs for 2017-18. Duke, USC, Arizona and UCLA each picked up visits this summer, with Duke and USC standing out as the favorites in Bagley's 247Sports Crystal Ball.
UCLA is considered the furthest team from the title — the Bruins come in 20th in CBS Sports writer Gary Parrish's latest Top 25 and 1. But with the return of Aaron Holiday in the backcourt and the addition of Bagley at power forward, UCLA could match up with just about anybody.
The other likely schools on Bagley's list are even better off. Arizona is already considered a unanimous No. 1 with a bullet, while Duke (7 in Parrish's ranking) and USC (9) are both top 10 teams who could become bonafide title contenders should Bagley choose them.
"He's an extreme talent," said Jerry Meyer, 247Sports director of basketball scouting. "He's sort of in that mold of an Anthony Davis-type big man in that he's multi-skilled all over the floor, and shows great composure with the basketball. And over the past year, he's developed a lot more grit to his game, showing a lot more in terms of defense, blocking shots and growing into an overall excellent big man.
"He's a game-changer," Meyer said. "And wherever he goes, if he reclassifies, I think the odds in Vegas to win the national title change for whatever team he chooses."
"Yes, Marvin Bagley is that impactful," Parrish said. "He could probably turn any Top 15 team into a true title contender."
Bagley showed his potential in a big way over 20 EYBL games — including five at Peach Jam — over this spring and summer. Bagley averaged 25.5 points, 14.7 rebounds, 3.0 blocks and 1.0 steals per game, displaying the kind of bouncy quickness, fluid athleticism and skill coveted at the four position.
Bagley's decision also becomes interesting for the 2018 NBA Draft, where he would be in contention for the No. 1 pick along with Missouri's Michael Porter Jr., Arizona's DeAndre Ayton and international star Luka Doncic.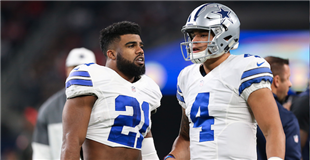 Predicting the 2017 records of every NFL team Start SlideShow
Bagley's decision will come sometime during the 10 p.m. CT SportsCenter on ESPN.