In my previous article on Omega Healthcare Investors (OHI), I discussed the fundamental difficulties being faced by the SNF industry and specific tenant issues being faced by OHI.
At that time, Q2 revenues were slightly lower than expected, but management struck an optimistic tone about the future. The Q3 earnings report is much worse, with a huge miss mostly due to Orianna and revised 2017 guidance. 2017 FFO, AFFO, and FAD will be lower than they were in 2016.
With shares trading below $29, is this a buying opportunity? Or is there more trouble lurking beneath the surface?
Guidance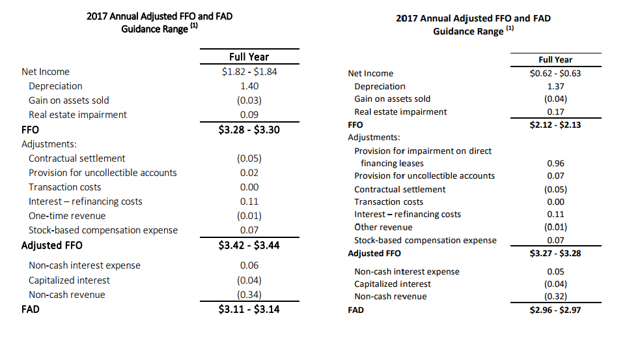 On the left, is the guidance included in the Q2 Supplement and on the right is the updated guidance in the Q3 Supplement. These are some substantial adjustments to be made this late in the year.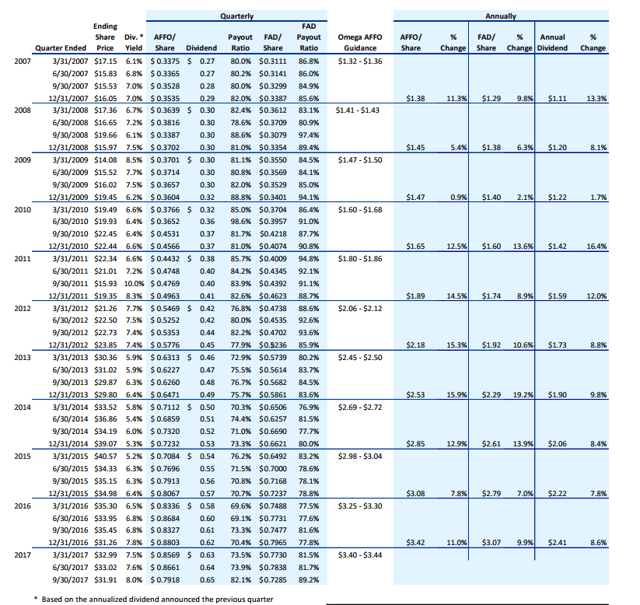 To add some historical perspective on the updated guidance, OHI provides a historical table on page 12 of their supplement. Annual AFFO and FAD have both increased every year as far back as the table goes.
The projected 4% drop in AFFO and 3% drop in FAD is an unprecedented event in recent memory.
Tenant Issues
The big question in any OHI investor's mind has to be whether Orianna is the worst of it, or whether there are more issues that could surface to create future unpleasant surprises.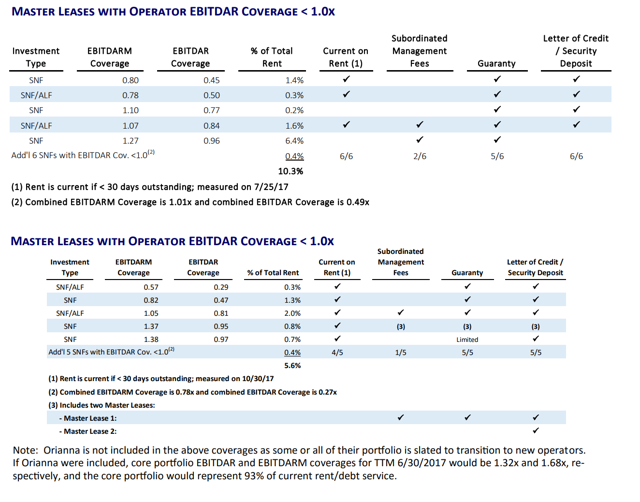 A comparative look of master leases with EBITDAR below 1.0x, with Q2 on top and Q3 on the bottom, shows that several of their tenants are still having troubles.
On a positive note, none of the remaining tenants at risk by this metric account for as much rent as Orianna did. However, it is clear that Orianna is not the only operator that has been experiencing difficulties.
OHI reports that occupancy remains relatively unchanged at 82.4% in Q3 compared to 82.5% in Q2. This persistently low occupancy is putting stress on operators throughout the industry. I do not see any near-term catalyst to change the current trends.
While it is reasonable to believe that Orianna is the worst of it, I do not believe that OHI's tenant issues are completely over. It is likely that OHI will see more smaller tenants default over the next year.
Barring a default from another top 10 tenant, 2018 should see AFFO growth as the Orianna properties are turned over to new, and hopefully more stable, operators. However, I expect that growth to be muted.
The Dividend
OHI's dividend has been a main attraction for retail investors. Many of the comments I received in my previous article and through messaging indicated a lack of concern about price. The biggest question in their minds is "is the dividend safe?"

OHI provides two measures, AFFO and FAD (Funds Available for Distribution). Using the high end of OHI's guidance, and subtracting the actual numbers for Q1-Q3, we can infer that OHI expects both numbers to be lower in Q4.
To estimate the payout ratio for Q4, I assumed that OHI will not increase its January dividend. Even without another increase, the payout ratios are rising to uncomfortable levels.
Q4's AFFO payout ratio will be the highest it has been since Q1 of 2011, and the FAD payout ratio will be the highest it has been since Q3 of 2008. Since 2013, the AFFO payout ratio has been in the low to mid 70s and the FAD payout in the low to mid-80s.
I continue to believe that the immediate dividend is safe. OHI has enough liquidity to cover the dividend even if it exceeds current cash flow, and with the quarterly increases continuing, I think OHI would avoid any cuts, even if it means a quarter or two of an uncovered dividend.
However, I think it is realistic to expect this most recent raise to be the last one for at least a few quarters. Even after OHI stabilizes the Orianna properties, they are expecting ongoing rent to be $8-14 million lower.
Conclusion
It is not a secret that the SNF industry is facing a challenging operating environment. OHI's issues are directly tied to the macro trends, and there is no sign that those trends are going to change in the near future.
Despite OHI telegraphing the issues it was having in Q2, many investors were apparently surprised by the large miss in Q3. This is not a case of a single tenant that is mismanaging its business. It is a symptom of an industry that is experiencing significant fundamental change.
While Orianna was the largest tenant facing immediate troubles, it is reasonable to expect that OHI is going to have a few more tenants going the same direction. Future misses might not be as bad, but investors should anticipate more issues like this over the next year.
For those who are chasing yield, OHI's dividend is now pushing 9%. In the near term, it appears safe. However, investors should not count on the increases to continue.
Additionally, if another top 10 tenant defaults, even the current dividend could be at risk. Genesis Healthcare (GEN) is one example of a significant tenant that has been having financial difficulties accounts for 6.6% of rent. Signature Healthcare was named in Q2 as being $10 million behind in back rent. It appears that it has made up that deficit for the time being. It accounts for 6.7% of rent. The current dividend no longer has a comfortable cushion if significant problems crop up in 2018 for either of these tenants.
From a short-term trade perspective, I think there is an opportunity here. Many investors will see the 9% yield as an opportunity that cannot be passed up. That might produce a nice bounce in the near term. For mid to long-term investors, there is not a lot of growth. OHI is going to continue to be a value trap, with most or even all of the return coming from the dividend.
I will wait for the fundamentals of the SNF industry to improve before considering a long-term investment in OHI.
Disclosure: I/we have no positions in any stocks mentioned, and no plans to initiate any positions within the next 72 hours.
I wrote this article myself, and it expresses my own opinions. I am not receiving compensation for it (other than from Seeking Alpha). I have no business relationship with any company whose stock is mentioned in this article.