ALDEN WILLIAMS/STUFF
A student magazine "censored" by the University of Otago has hit back with a new front cover, redacting the university's apologies "to say what we think it should've said all along".
Hundreds of copies of Critic Te Arohi were removed from the university campus last week after a cartoon of a person menstruating was published on the cover.
University Proctor Dave Scott apologised to Critic editor Joel MacManus but the university claimed the removal of the controversial issue was a staff member's mistake, not censorship.
SUPPLIED
"We took the full two statements that the university put out … and we basically blacked out words to say what we think it should've said all along, which was that they never should've done it and it never should've happened," MacManus said on Sunday.
READ MORE:
* Critic magazine dumping prompts vocal rally at Otago University
* University of Otago Proctor apologises for removal of student period magazine
* Destruction of period magazine 'censorship'
* Uni student makes official request for Studylink's hold playlist
* Joel MacManus is the Critic – Te Arohi magazine editor reviving student media
The Critic-censored statement now reads:
"After copies of Critic magazine were removed from campus, the assumption was made that, rightly or wrongly, the university is a place where many people might be exposed to issues they were initially unaware of.
"No opinion should be removed from campus. This was a mistake."
MacManus said the new issue also included a full story about the controversy and an editorial "to put the record straight on a few things".
"I guess it's just a message to the uni to say, in a cheeky way, 'we're onto you'," he said.
"We still don't buy the uni's claim that it was 500 copies. I think it was way more than that, I think it was about 1500 to 2000, and I don't know why they decided they would lower that number to make themselves sound better."
Critic had been "inundated" with feedback and was running four pages of letters to the editor as well as a cartoon about the issue from a UK-based cartoonist who got their start at Critic in the 1970s.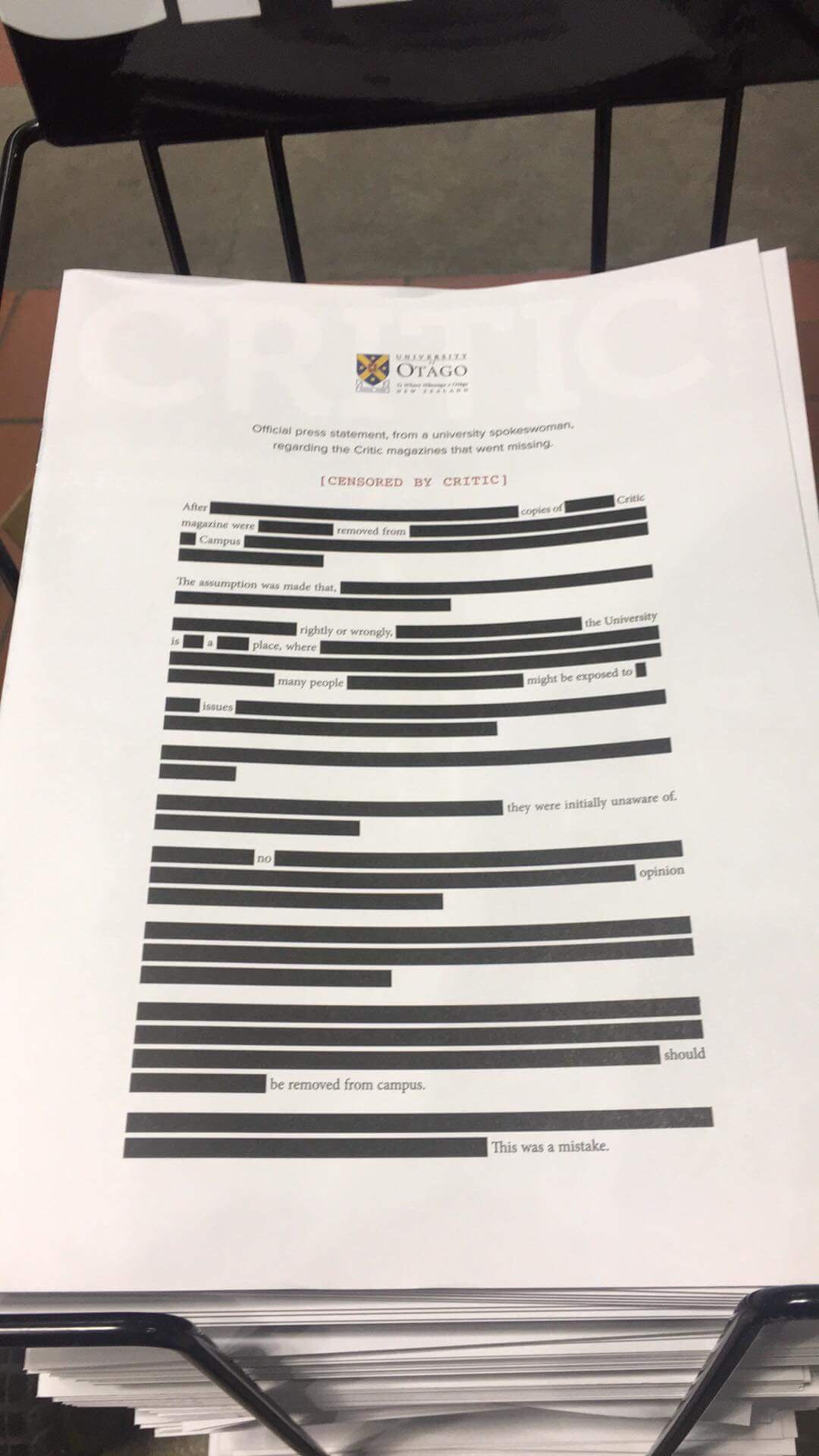 MacManus said he wanted to make it clear that Critic staff had no involvement in organising a protest prompted by the magazine dumping, held at the university last week.
He said some students had also been "throwing accusations" at Scott and Vice Chancellor Harlene Hayne.
"It doesn't actually appear to me that it was either of them. It may have been some rogue staffers."​
The remainder of the issue would be a return to the norm, MacManus said, with stories about taking magic mushrooms and an interview Critic staff did with The Beatles in the 1960s.
"We've got a story about dumpster diving, which was written before the whole thing happened but was quite ironic considering where the issues were thrown."

 – Stuff