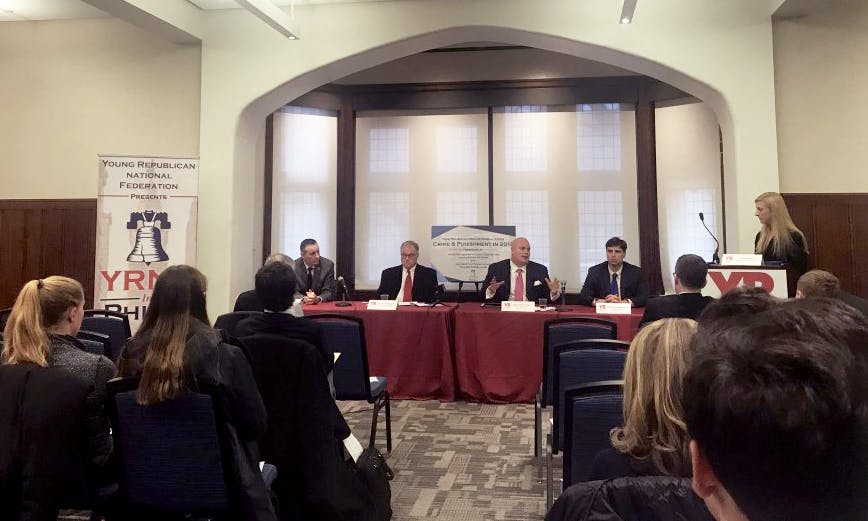 Experts discussed potential reforms — from education to mental health — to further the progress toward improving the criminal justice system at Houston Hall on March 23. 
The forum, hosted by Penn College Republicans and Philadelphia Young Republicans, and included panelists former White House Counsel Jim Schultz, Congressperson Brian Fitzpatrick, Criminal Justice Task Force Director at the American Legislative Exchange Council Ronald Lampard, and Pennsylvania state senator and GOP gubernatorial candidate Scott Wagner. Panelists focused on drug-related crimes and the importance of reform — from re-entry pathways to rehabilitation programs for inmates.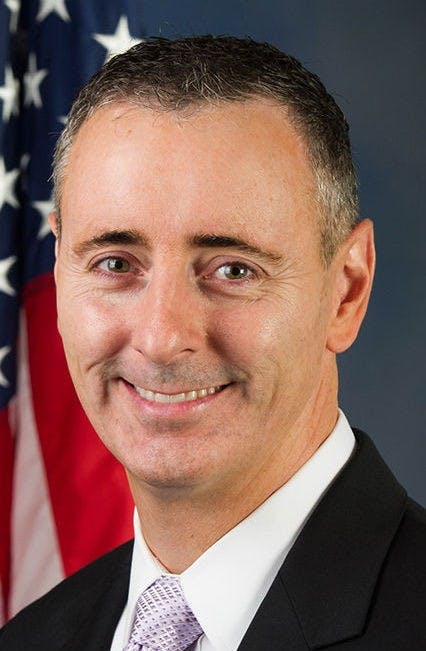 The discussion, moderated by Jenna Moll from the Justice Action Network, attributed specific attention to the relationship between substance use disorder and incarceration. Fitzpatrick said, "We are criminalizing behavior that needs treatment, not incarceration" and highlighted that this is a large reason immediate reform is necessary. Schultz affirmed this idea, noting that low-level drug convictions play a role in preventable reductions to the workforce.  
During the panel, experts agreed that criminal justice is an issue of particular importance to young students partly due to its connection with drugs. The issue would "really hit home with young people because they see their friends being taken down," Schultz said. "There is an increased understanding with this generation as to the impact drugs have on society."
College junior Rich Murphy said he found the panelists compelling. "Republicans have a stigma of coming off as very hard on drug crimes, and it was interesting to see Wagner and others say pretty much the opposite," he said. 
College Republicans President and College junior Ryan Snyder said the strength of this panel lay in the diverse backgrounds of panelists, as it let the audience "hear about the topic from a range of perspectives."  
This diversity of background was evident when panelists discussed the future of criminal justice reform. Some panelists like Lampard stated that the immediate focus for legislators should be to reform the process of re-entry into society for prisoners. 
"It should be rehabilitative, not punitive," he said. He also highlighted rehabilitation would help transform individuals who might have been burdens on tax payers to become contributing members of society and tax payers themselves. 
Attendee and member of Young Republicans National Forum Desrey Brown also said she felt that these points made by panelists "to focus on rehabilitating these folks than to build more prisons made sense."
Senator Wagner proposed a different solution, arguing that solutions lay in education system reform. He proposed introductions of programs to discuss career planning with elementary-school students as opposed to students in their last few years of high school. "We may be able to bring down drop-out rates," he said.
The discussion on criminal justice reform comes at a time of upheaval at Philadelphia's chief law enforcement office. The recently-elected district attorney, Larry Krasner, is a former defense attorney and dismissed 31 members of his 534-person staff within his first week as DA. He has since announced an intended policy reform to release over a thousand people who missed their bail payments from prison .  
While Philadelphia's crime rate has fallen in recent years, the city has the highest rate of incarceration per capita out of the 10 largest cities in the nation, according to The Philadelphia Inquirer. 
Other panelists at the event suggested sealing records of former prisoners and destigmatizing former prisoners.
"A criminal conviction should not be a life sentence," Lampard said.