Were it not for Jeff Kandyba, the world would have never seen Taylor Swift in court.
The 27-year-old "Wildest Dreams" singer managed to evade the paparazzi for several days during her trial in Denver. "A person like Taylor Swift, who is very pretty, who has perfectly proportioned dimensions on the face, is actually much harder [to draw]," Kandyba, who has been sketching in Colorado courtrooms since the 1980s, told Fox-31 Denver. Swift's eyebrows have "a really distinct arch," he added. Prior to Swift's testimony, he researched photos of the pop star online as part of his preparation. "It made me very nervous going into it," he said. "That's why I did practice sketches ahead of time, just to figure out the nuances in her face."
Kandyba added, "Everybody's got little idiosyncrasies about them that you want to pick up on."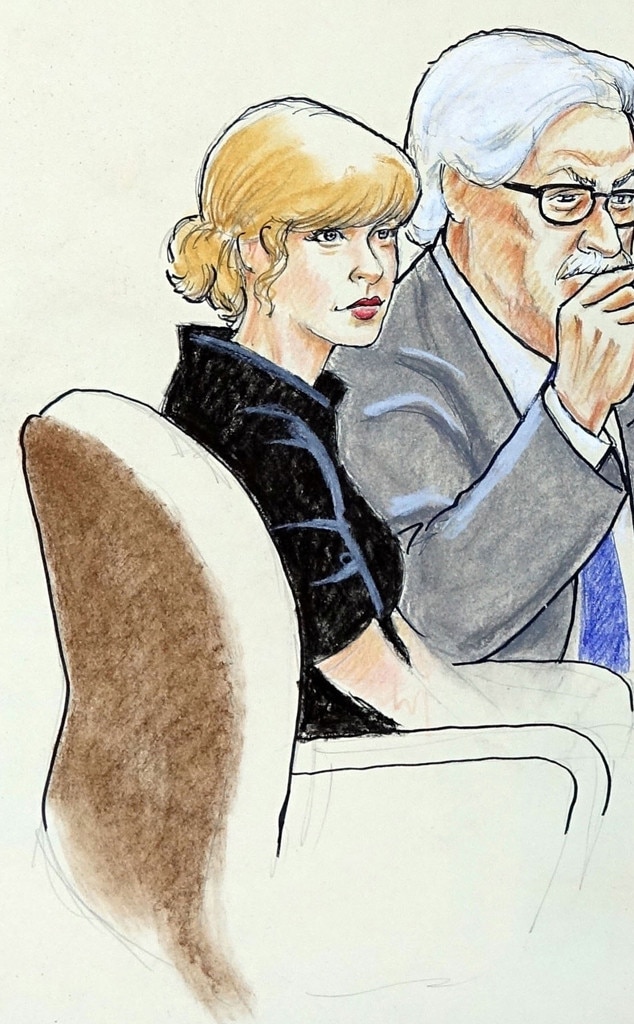 GLH / BACKGRID
"It's hard. Some people are just much easier to draw than others. If you give me somebody with a beard and glasses—bingo—got it." Unlike a portrait, where subjects stay still, Kandyba must observe a person who can move freely and create a still image in his mind. "I'm always drawing people in my head and they always look way better in my head than they do on paper," he said.
Many of his drafts have been criticized on social media. In a previous interview with Westword, Kandyba explained why his sketches don't necessarily resemble Swift in real life. "I'm probably sitting 35 feet away from her looking through binoculars—and if you've ever tried to draw anything looking through binoculars, it's not the easiest thing in the world. You go more for resemblance, and hopefully you can at least get that," he said. "I don't think you can ever draw a personality like Taylor Swift well enough to have everybody go out and say, 'That's great.'"
After six days in court, a jury deliberated for several hours Monday before ruling that former radio host David Mueller assaulted and battered Swift at a meet-and-greet photo session at the Pepsi Center in June 2013; she is being awarded $1. The jury also ruled that Swift's mother and a management team member, Frank Bell, did not intentionally interfere with his radio contract.
"I've been surprised that it's getting the kind of attention it is," Kandyba said days before the verdict. "I'm aware that Taylor Swift is a huge celebrity, but it's not like this is a landmark, precedent-setting anything. I don't even really consider it all that newsworthy. I don't have anything one way or the other against any of the people. It's just kind of a tawdry little affair."
"We're talking about a federal court case dealing with some guy grabbing a girl on her butt. I still can't wrap my mind around that. None of that computes. Personally, sitting there listening to it, I can't imagine that this guy ever thought he had a case to begin with. I know the Taylor Swift camp never wanted to make this public. And this guy keeps saying, 'I need to move beyond this, I need to move beyond this'—but he's the only one making any noise about it," Kandyba added. "If that's really what your intentions are, you're making this so much worse."
While Mueller has since granted interviews to CNN and Good Morning America, Swift released a single statement Monday. "I want to thank Judge William J. Martinez and the jury for their careful consideration, my attorneys Doug Baldridge, Danielle Foley, Jay Schaudies and Katie Wright for fighting for me and anyone who feels silenced by a sexual assault, and especially anyone who offered their support throughout this four-year ordeal and two-year long trial process. I acknowledge the privilege that I benefit from in life, in society and in my ability to shoulder the enormous cost of defending myself in a trial like this. My hope is to help those whose voices should also be heard," she told E! News. "Therefore, I will be making donations in the near future to multiple organizations that help sexual assault victims defend themselves."