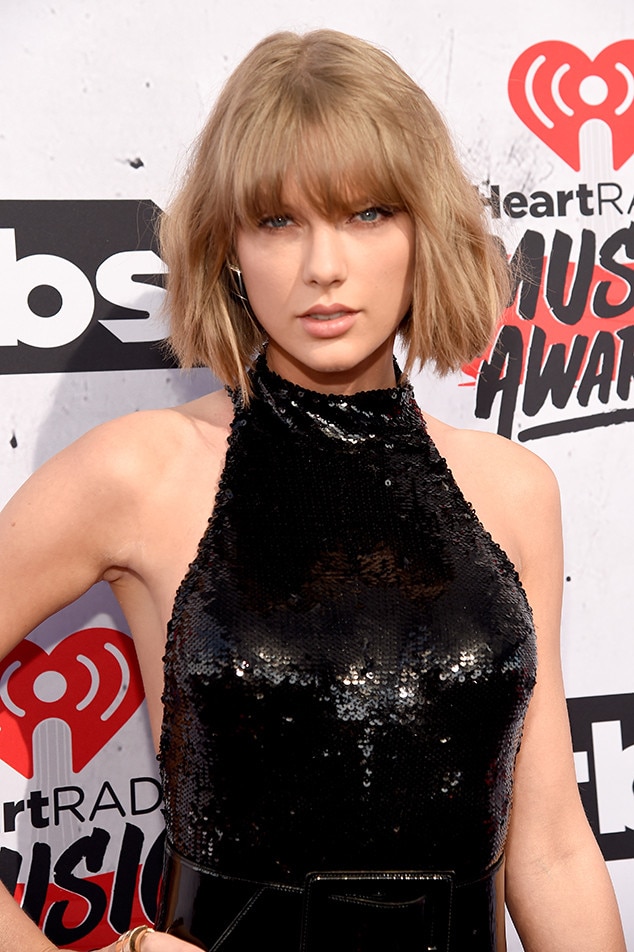 Kevin Mazur/Getty Images for iHeartRadio / Turner
Taylor Swift has taken the stand. 
On the fourth day of an ongoing groping trial involving former Colorado DJ David Mueller, the Grammy winner was called by his attorney, Gabriel McFarland, to the stand for questioning for the first time. Donning a floral summer dress, the star was sworn in and asked about her meet-and-greet encounter with Mueller and his girlfriend at the time, Shannon Melcher. As Swift alleged in her lawsuit against Mueller, the three posed for a photograph together backstage in June 2013 at Denver's Pepsi Center during Swift's ongoing Red concert tour. 
At the time, Mueller was the host of 98.5 KYGO's "Ryno and Jackson" morning show and was invited as part of his job to a meet-and-greet with the star backstage. During the photo, Swift posed in between Melcher and Mueller and claimed he grabbed her butt while the photo was taken. 
"It was a definite grab. A very long grab," she told McFarland on the stand. When asked "how long" the alleged grab took place, Swift replied, "I don't think it would be wise to estimate time in court, but I know it was long enough for me to be completely sure that it was intentional." 
McFarland asked further questions about the incident, including whether his client had grabbed her "bare bottom." "Yes," she answered. "He stayed latched on to my bare ass cheek… I felt him grab onto my ass cheek underneath my skirt. The first couple of milliseconds I thought it must be a mistake, so I moved to the side very quickly so that his side would be removed from my ass cheek, but it didn't let go," she further testified.
When asked if she tried to get away, the star explained, "It was a very shocking thing that has never happened to me before. This was not something I had ever dealt with. I got as far away from him as I possibly could."
As the line of questioning continued, Swift further clarified where Mueller's hand allegedly was. "Rather than grabbing my ass outside of my clothing, he grabbed my ass underneath my clothing," she said on the stand. "He was busy grabbing my ass underneath my skirt, so he didn't grab it outside of my skirt."
Once the photograph was taken, Swift recalled "a light switched off in my personality."
"I just said in a monotone voice, 'Thank you for coming,' and then they were gone," she described. "Your client could have taken a normal photo with me." The "Shake It Off" singer said that the "first moment" she had without fans in front of her, she reported the incident. 
As she recalled telling her assistant, "I said, 'That dude just grabbed my ass.'"
Soon, the line of questioning turned to Swift's body guard at the event, Greg Dent. McFarland asked Swift about working with Dent, including how long he had worked for her and whether or not she considered him one of the best bodyguards she'd ever had. "I don't have a competition in my mind over best body guards," she replied. 
The musician declared that she trusted Dent and still does and asserted that he saw Mueller "reach under my skirt and grab my ass." McFarland questioned if Dent tried to stop Mueller or call security after the alleged incident. 
It was "a devious and sneaky act," Swift described. "There was a wall behind me." The lawyer further questioned the pop star, asking if she was critical or questioned Dent's protection of her. 
"What Mr Mueller did was, like I said, very intentional and the location was very intentional and it happened very quickly and I wasn't going to blame Greg Dent for something Mr. Mueller did," she said. When asked if she was critical of Dent for allowing someone to grope her, she retorted, "No, I am critical of your client sticking his hand under my skirt and grabbing my ass."
This story is updating in real time…