The college football schedule in Week 10 could not be any better.
That's not hyperbole. There are seven Top 25 matchups and almost all of them have College Football Playoff implications. This is a week of separation. Some contenders will be eliminated from their conference races while others will only strengthen their resumes.
247Sports, as it does weekly, will go in-depth on some of the weekend's key games and breakdown the matchups/storylines for the diehard college football fan. So let's take a look at the Week 10 slate.
Michigan State's D-line vs. Penn State's O-Line
No. 7 Penn State at No. 24 Michigan State
11 a.m., FOX
If Penn State hopes to resuscitate its college football playoff hopes, it can't lose again. And on the road against Michigan State, that's a real possibility. The Spartans aren't an explosive offensive unit, but they do feature one of the best defenses in the FBS. Only four teams allow fewer yards per carry than Michigan State (2.83), and the Spartans surrender only 90 rushing yards per game. And as Ohio State showed last week, the Nittany Lion run game can be exposed. Penn State managed 2.6 yards per carry against the Buckeyes, a number that looks even worse if you take away Saquon Barkley's single big run – a 36-yard burst for a TD.
Penn State's offensive line is a problem. The Nittany Lions are 92nd nationally in sacks allowed and 65th in the country in rushing yards per game, despite Barkley's presence. The formula is there against Penn State. Limit Barkley and the Nittany Lions run game with four or five rushers, and it severely hampers their attack.
Michigan State will still need to score – a problem for an offense that ranks 98th nationally in points per game – but the method is there on defense, and the Spartans have the personnel to execute it.
Mitch Hyatt vs. Bradley Chubb
No. 4 Clemson at No. 20 NC State
2:30 p.m.,ABC
This is a micro matchup in a macro clash that will help decide this game. Last week, Notre Dame's offensive line got the better of NC State's stellar front seven, rushing for 318 yards in a 35-14 win. Chubb played well with three tackles for loss, but it wasn't enough. This week, Clemson's run game, both Kelly Bryant and the team's running back stable, will be equally critical in moving past the Wolfpack. And that means beating Chubb. Like Notre Dame's Mike McGlinchey, the Tigers have a star offensive tackle, Hyatt, that they can throw against Chubb.
Hyatt ranks as Clemson's top overall offensive player and the nation's No. 17 overall offensive tackle with an 86.6 overall grade, per PFF College. At 6-foot-5, 305 pounds, the former five-star prospect has been a starter for the Tigers since Day 1. He hasn't been as dominant as he was in 2016, but he's still been Clemson's best offensive lineman. Chubb, for his part, is simply a force. He's second nationally with 16 tackles for loss, and PFF College ranks him as the No. 6 overall defensive end in the country with an 88.6 grade.
If Hyatt can open holes and keep Bryant's jersey clean, it projects well for Clemson's overall offensive performance. If he can't, the Wolfpack defensive line could be in for a rebound game. If that happens, the Tigers are on upset alert on the road.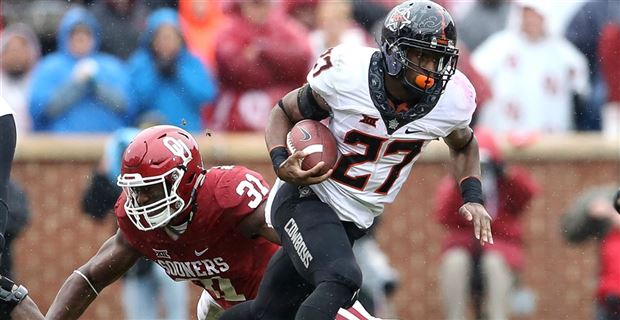 Which Defense Can Get a Stop?
No. 5 Oklahoma at No. 11 Oklahoma State
3 p.m., FOX
There might not be two teams more evenly matched than what we'll see in Bedlam. Both programs feature elite quarterbacks (Baker Mayfield and Mason Rudolph), a hybrid Air Raid system, and, above all, a questionable defense. The Sooners and Cowboys have been lit up on several occasions this year – both have allowed 30-plus points three times in eight games – and those defensive units will be the determining factor in this game.
This might seem to surface-level for a preview geared toward diehards, but this is, inescapably, what the game will come down to. The offenses are going to score, likely at will. Whichever defense can endure the assault better will win. If you're looking for a potential separator on that side of the ball, consider turnovers created. The Cowboys are tied for first in the Big 12 with 17, while the Sooners have only created eight.
If Oklahoma State can turn Mayfield over once or twice, it could win Bedlam for the first time since 2014. And the winner of this one is critical. Whoever loses is all but eliminated from the Big 12 and CFB Playoff race.
Can LSU's O-line, QB Hold Up Against Alabama?
No. 19 LSU at No. 2 Alabama
7 p.m., CBS
If there's been a blueprint to beat Alabama the last few years, it's been these three things: 1. A running quarterback who can stretch the defense and make creative off-schedule plays. 2. A spread offense that wears Alabama down with its pace. 3. An offensive line that wins at the point of attack.
The first example is your Chad Kellys or Deshaun Watsons of the world. The second is systems like Clemson's or Ole Miss' – just see Alabama's defense in the 2016 title game. The third, going back to the 2014 season, is when a great Ohio State offensive line cleared the way for a great Ohio State running back (Ezekiel Elliott). Losses, obviously, don't happen often for the Crimson Tide. But that's been the way to beat them. So, let's take a look at LSU's personnel and look at how likely an upset is to occur..
Danny Etling is quietly having a good season for LSU. He's playing within the system and has thrown nine touchdowns against a single interception. He's also only averaging 2.3 yards per carry. Etling has been better, but he's not exactly fleet-footed. What about the system? Matt Canada is as creative as an offensive coordinator as you'll find, but this Tiger team doesn't exactly push the tempo. Only 13 teams nationally that have played eight games have snapped the ball less frequently. What about the offensive line? The group's played better recently, but the Tigers are still 63rd nationally in sacks allowed.
So, yeah, things don't look great for LSU. Canada is coming off a bye week and will have had plenty of time to install a little trickery, but it's going to take a heroic performance from the Tiger offensive line – paired with Derrius Guice – or Etling for LSU to walk out of Tuscaloosa with a win.
Virginia Tech's Passing Attack vs. Miami's Secondary
No. 13 Virginia Tech at No. 10 Miami
7 p.m., ABC
Miami's struggled to move the ball at times this year, but its defense is playing at a championship level, especially the secondary. Only two teams nationally allow fewer yards per attempt than the Hurricanes, and opponents have thrown six touchdowns against 11 interceptions versus the Miami defense. Virginia Tech, meanwhile, thrives through the air. Josh Jackson has had a quality season as a redshirt freshman, and his targets like Cam Phillips (6th) and Dalton Keene (22nd) have been elite for their positions, per PFF College. Justin Fuente offenses are aerial assaults, and right now the Hokies are humming.
Whoever gets the better of that matchup will play a critical role in this game.
But here are a few other things to watch in this one, a clash that will like decide the ACC Coastal Division: 1. The health of Miami starting QB Malik Rosier is in question. He's dealing with a shoulder injury this week. 2. If Miami, third nationally in tackles for loss, can cause pressure against what's been a quality Virginia Tech line the Hokies could struggle. 3. Miami has issues on third down. The Hurricanes are 118th nationally in third down conversion percentage, while Virginia Tech is third nationally in defending the same category.
Any of those things could swing a game between a pair of evenly – not to mention untested – teams.