College football giveth, and college football taketh away.
At least that's what I'm thinking heading into Week 12. After two straight weeks of juicy matchups and stellar games, we've entered the cupcake week on the schedule. There is only a single clash of ranked teams this weekend, and most schools will get a break before hitting the final week of the regular season.
Still, there's football to be played, which means we're getting diehard fans ready for Saturday's slate.
(Note: All times listed are CT)
Whatcha Got, Brandon Peters?
No. 24 Michigan at No. 5 Wisconsin
11 a.m., FOX
Michigan is not yet dead in the Big Ten East, and a big reason for that is the play of redshirt freshman quarterback Brandon Peters. Since Peters was inserted into the lineup three weeks ago against Rutgers, the Wolverines are 3-0 and averaging 34.3 points per game. Peters is playing well, too, completing 60 percent of his passes and giving a previously stagnant offense a jump. That said, Peters hasn't faced a defense like Wisconsin's.
The Badgers rank seventh nationally in passing yards allowed per game. Only Washington surrenders fewer yards per attempt. Perhaps most notably, opposing QBs complete just 50 percent of their passes against the Badgers' defense. Wisconsin hasn't allowed more than 271 yards passing in a single game this year. Only one player, Tanner Lee, even cleared even the 226-yard mark. In fact, opposing quarterbacks have thrown just eight touchdowns to 15 INTs against Wisconsin.
Peters won't be asked to carry the Michigan attack. The Wolverines remain a power, run-first offensive unit. But the Badgers will stack the box, and eventually the true freshman will need to make some throws. If he doesn't, it's going to be a long day for Michigan at Camp Randall.
Kentucky's Pass Rushers vs. Andrew Thomas
Kentucky at No. 7 Georgia
2:30 p.m., CBS
Georgia's offensive line has been quality all year. It's the reason the Bulldogs have been able to run so effectively and why Jake Fromm's had such an easy time of it as a true freshman starter. But the Bulldogs' offensive line showed a few cracks last week against Auburn. It wasn't the reason Georgia lost, but the group was far from dominant. That included the play of true freshman RT Andrew Thomas. A steady presence all year, Thomas gave up his first sack of the season, per PFF College, against Auburn. He also allowed three quarterback pressures, which is 33 percent of the total he'd allowed for the year.
Thomas isn't a weakness, but he'll face another test this week from Kentucky's star pass-rushing pair Josh Allen and Denzil Ware. Together, the 3-4 outside linebackers have combined for 20 tackles for loss and 13.5 sacks. PFF College ranks them both among the Top 50 pass rushers in the country at their position, and Allen is particularly effective at 16th nationally.
Mark Stoops is creative with his blitzes, and you can be sure Allen and Ware will head Thomas' direction early and often. It's unlikely that Kentucky pulls the upset. But the way Thomas handles this matchup will say a lot about his ability to face teams like Alabama down the line.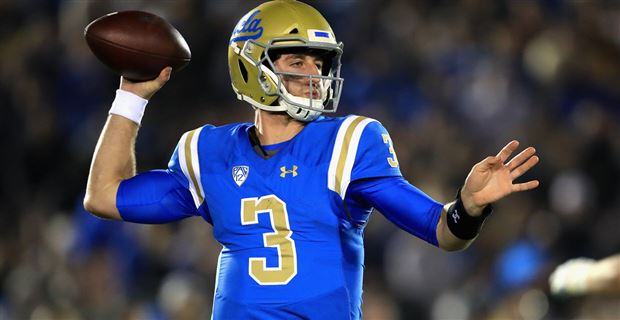 Josh Rosen vs. Sam Darnold
UCLA at No. 11 USC
7 p.m., ABC
Hurt at the end of last season, Rosen wasn't available for the Bruins' matchup with USC. That isn't the case this week, and finally we'll get to see a clash of potential generational signal callers. Well, at least that was the narrative at the beginning of the year – very much guilty on that one. Now, this is a meeting of a floundering UCLA team and a USC unit that hasn't met its championship expectations. All of that said, Rosen and Darnold remain very good quarterbacks.
Rosen, despite UCLA's 5-5 record, is ninth nationally with 3,094 passing yards. He's completing 62.2 percent of his passes and has thrown 19 touchdowns against nine INTs. Darnold, for his part, is sixth nationally with 3,198 passing yards. He's completing 63.4 percent of his passes and has thrown 19 touchdowns against 11 picks.
Both are turnover-prone. Rosen sometimes makes baffling decisions, and Darnold often forces the ball places he shouldn't. But that doesn't take away from their tantalizing talents.
Baker Mayfield is the best quarterback in the country. Lamar Jackson is the most explosive – Khalil Tate might be coming for that title. But, at least in terms of raw natural ability, nobody can matchup with this pair. It's going to be a fun meeting of local L.A. kids, and it's a clash you can expect to continue for years in the NFL.
Other Things to Watch in Week 12
It'll be interesting to see how No. 3 Miami handles an 11 a.m. kick this week. After the high of back-to-back raucous home environments, the Hurricanes might need to create their own energy this week at home against Virginia (6-4). It probably won't matter. But it's something to watch for with a team that played four one-possession games in a row in October when the lights weren't quite so bright. (11 a.m., ABC)

Kliff Kingsbury's job status isn't being mentioned much nationally, but he really needs a strong finish to the 2017 season. After a 4-1 start, the Red Raiders have lost four of their last five games and are in danger of missing a bowl for the second straight year. This week, No. 12 TCU comes to town. Ironically, the Horned Frogs actually have two people on their staff that would make strong candidates for the Tech job: OC Sonny Cumbie and offensive analyst Sonny Dykes. Both are Texas Tech graduates and run Air Raid systems. Kingsbury might not go anywhere or the Red Raiders might opt to go in a totally different direction, but it's an interesting storyline all the same. (11 a.m., FS1)

Want to watch the scoreboard light up? Check out SMU (6-4) vs. No. 21 Memphis. Both rank among the Top 10 nationally in terms of points per game, and both feature explosive passing attacks. Of note are the receivers in this one. Both SMU's Trey Quinn (96 catches, 1,008 yards) and Memphis' Anthony Miller (905 yards, 11 TDs) are Biletnikoff Award semifinalists. Additionally, the Mustangs' Courtland Sutton (875 yards, 11 TDs) was a preseason All-American and is a likely high-round NFL Draft pick. (11 a.m., ESPN News)

It's early in the morning, but Texas (5-5) at West Virginia (7-3) is an interesting matchup. Not only does it feature a Texas team struggling to make a bowl game and in search of its second win over a team with a winning record, but there are a lot of individual stars to check out in this one. West Virginia quarterback Will Grier is among the nation's passing leaders, his receiver, David Sills, leads the country with 18 receiving touchdowns and Texas safety DeShon Elliott is second nationally with six INTs. Additionally, star Texas left tackle Connor Williams, once thought lost for the season, could make his return this week. (11 a.m., ESPN)

In the opposite of the SMU/Memphis matchup, two of the country's most run-heavy teams, No. 8 Notre Dame and Navy (6-3) , will square off. The clock should run fast, and it wouldn't be a shock if these two teams combined to clear the 600-yard rushing mark. (2:30 p.m., ESPN)

The nation's leading receiver, Michael Gallup (1,298 yards), and tackler, Frank Ginda (152), will square off Saturday when San Jose State (1-10) travels to face Colorado State (6-5) in the regular season finale for both schools. (2:30 p.m., CBS Sports Network)

We mentioned Rosen vs. Darnold earlier, but the most exciting QB matchup of the weekend might be Louisville's Lamar Jackson vs. Syracuse's Eric Dungey. The Cardinals' Heisman winner ranks as PFF College's No. 4 overall QB, while Dungey slots at No. 7. Both excel as passers, but their strength is running the football. Jackson has already rushed for 1,176 yards and Dungey is at 595 yards for the year. It's important to note that Dungey is questionable this week with a foot injury that kept him out of the Orange's loss last week to Wake Forest. (2:30 p.m., ESPNU)

Want to watch the best story in college football this year? Check out UAB (7-3) when it travels to face Florida (3-6). Honestly, this game could easily go the Blazers' way. The Gators have a hard time scoring on anyone, and UAB has an offense that will be able to generate points against even the best defense. The Blazers, two-and-a-half years from the program being shut down, could easily be giant killers this week. (3 p.m., SEC Network)

In the clash of styles matchup of the week, we present Army (8-2) at North Texas (7-3). Nobody in football runs more than the Black Knights, and the Mean Green's Air Raid attack slots 25th nationally in passing yards per game. Also, this is a rematch of last year's Heart of Dallas bowl, a game that went to OT. (5:30 p.m.)

No. 20 LSU will travel to Tennessee (4-6) this week. The game shouldn't be close, but I am interested in seeing how the Vols respond in the post-Butch Jones era. It wouldn't shock me at all if Tennessee played better without the question of Jones' future hanging over the team. (6 p.m., ESPN)

College football fans will get the rare chance to see Arizona QB Khalil Tate before dark this week when Arizona (7-3) travels to Oregon (5-5). Tate, in case you've been under a rock, has gone from backup to Heisman dark horse in less than a year. The sophomore QB is so explosive that he's rushed for 1,293 yards in six starts. He's completing 62 percent of his passes to boot.

I'm not sure why this game isn't on TV, but FIU (6-3) vs. FAU (7-3) is a meeting of two of the most famous first-year coaches in Conference USA history. Lane Kiffin's Owls are undefeated in conference play, and Butch Davis' Golden Panthers are bowl-eligible for the first time since 2011. (6 p.m.)

Want a late-night fix this weekend? Check out Cal at No. 22 Stanford and Nevada at San Diego State. Mostly, though, watch the Cardinal's Bryce Love and the Aztec's Rashaad Penny. The two West Coast runners are neck-and-neck for the national rushing yard lead. Love (1,622 yards) has the slight lead over Penny (1,602 yards), but there's plenty of time for that to change. Both could easily clear the 2,000-yard mark for the year.