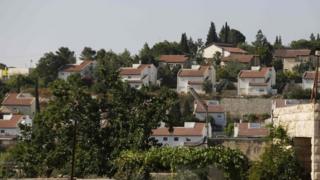 Three Israelis have been stabbed to death in a settlement in the occupied West Bank, Israeli officials say.
Another Israeli was wounded in the attack in Halamish (also known as Neve Tsuf), near Ramallah. The Israeli army says the attacker was shot and caught.
The attack came near the end of a day of clashes between Palestinians and Israeli forces over new security measures at a Jerusalem holy site.
Three Palestinians were killed and hundreds were hurt in East Jerusalem and the West Bank.
Palestinians die in East Jerusalem clashes
'Assailant was shot'
The Israeli army said "an assailant infiltrated a private home" in Neve Tsuf and stabbed four Israeli civilians. Unconfirmed reports in local media say the attacker was a Palestinian.
The army statement added: "Two of the victims died as a result of their wounds, one is being given medical attention at the scene and another was evacuated to the hospital. The assailant was shot."
The army said that soldiers were still searching the area.
There has been a wave of stabbings, shootings and car-rammings of Israelis predominantly by Palestinians or Israeli Arabs since late 2015.
At least forty-seven Israelis and five foreign nationals have been killed in nearly two years of such attacks.
At least 255 Palestinians – most of them attackers, Israel says – have also been killed in that period, news agencies report. Others have been killed in clashes with Israeli troops.
Israel says Palestinian incitement has fuelled the attacks. The Palestinian leadership has blamed frustration rooted in decades of Israeli occupation.
Is Palestinian-Israeli violence being driven by social media?