May 21, 2018
Contact:  Brittney Dabney, Office of Communications, Public Relations and Marketing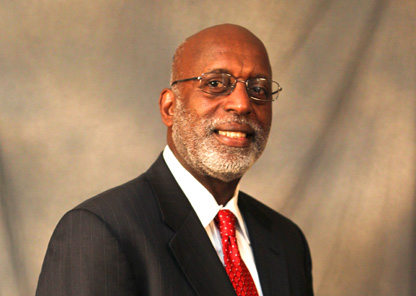 Tuskegee University has named as its new chief operating officer Dr. Charles N. Smith­, whose higher education experience has included leading student development, assessment, retention and student success at several higher education institutions.
The university's administration and Board of Trustees created the chief operating officer position to provide greater leadership to a number of non-academic functional areas, including facilities, capital projects, human resources and administration, systems administration and information technology, and campus police.
"The university will benefit tremendously from Dr. Smith's keen insights into higher education operations, based largely on his experience at institutions of varying sizes and scopes," said Interim President Charlotte P. Morris. "His versatility will be a wonderful asset as he partners with other executive-level leaders to identify and execute solutions focused on increasing efficiency and customer service in our overall operations."
Prior to his appointment, Smith served as senior executive, chief of staff and acting vice president for Institutional Advancement at Wiley College in Marshall, Texas. There, he led the West Marshall Community Development Corporation, oversaw multiple special projects, including the college's 145th anniversary campaign with an annual fund goal of $1.45 million; re-established the Wiley College Radio Station; and developed its emergency management plan.
As associate provost at Jackson State University, Smith redesigned the Student Affairs Complex, and reorganized both the Office of Student Activities and Leadership, and the Office of Residence Life and Housing.
At Alabama State University, he served as associate provost for distance learning and vice president for student affairs. In his latter role, Smith worked to restructure the Department of Residence Life and Housing, reorganize the Department of International Student Services and establish an Office for Veteran Affairs.
He is the author of four books: This Morning My Father Died…So What; The Last Shall Be The First; On The Sideline or In The Game; A Funeral, and A Wedding and The Journey Between. In addition, he has written several articles and publications to his credit and has conducted several workshops and seminars on issues related to student development.
Smith earned both a bachelor's degree in psychology and a master's of rehabilitation counseling from Virginia Commonwealth University in Richmond, and later received a doctorate in higher education administration from Virginia Polytechnic Institute and State University in Blacksburg.
He has received certification of completion for the Kellogg Leadership program, the Harvard IEM program from the Graduate School of Education; the United Methodist Church Leadership Institute, and the Millennium Leadership Institute.
© 2018, Tuskegee University