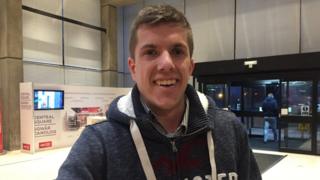 Up to 60,000 students at Welsh universities could be affected by a staff walk out in a dispute about the UK's biggest pension scheme.
It follows a ballot of 2,000 University and College Union (UCU) members at Cardiff, Aberystwyth and Bangor universities, and University of Wales.
The strike is the first of 14 days of industrial action over four weeks.
Employers' group Universities UK (UUK) said the pension scheme changes were essential because of its deficit.
More than 4,300 people have signed a petition calling for Cardiff University to compensate students for missed lectures, but the university has said the impact on learning would be "minimum".
Cardiff student Samuel Veal, who started the petition, said he feared students would be left without support and unable to answer key questions in exams later this year due to the lost classes.
The Universities Superannuation Scheme (USS) is the UK's largest in terms of assets with £60bn worth, four times the size of the British Steel Pension Scheme.
Staff are angry at plans to change scheme – arguing they could end up with a less favourable pension pot when they retire.
WHAT IS THE ROW ABOUT?
At present, the staff are in a scheme that mixes what are called defined benefits and defined contribution pensions.
All those earning up to £55,000 a year see pension contributions from that pay put into a defined benefits pot. That guarantees a fixed pension pay-out when they finally finish work.
For those who earn over £55,000, pension contributions go into the defined contributions pot.
This pot is more volatile – as the amount of pension you get back will depend on the money markets on the day you retire.
The proposed changes would see all payments placed in the defined contributions pot in the future.
The striking academics say this puts them and their pension cash at risk.
Without the changes being proposed, USS said it would have a £7.5bn deficit.
This only affects what happens with future funds from April this year as all previous savings are legally protected.
The UCU's members include lecturers and other "academic-related" staff such as researchers and librarians.
UCU and UUK blame each other for the deadlock, which it is feared could drag out into the exam period if not resolved.
UCU general secretary Sally Hunt said: "While UCU is working hard to resolve the dispute if we can, what we have from Universities UK is obfuscation and delay."
A spokesman for Universities UK said the proposed changes would make USS secure and sustainable.
He said: "University staff will still have a valuable pension scheme, with employer contributions of 18% of salary, double the private sector average… UUK remains at the negotiating table, but so far UCU has refused to engage on how best to address the funding challenges facing USS."
The USS scheme is only used by older universities such as Cardiff, Aberystwyth and Bangor, and some staff at the University of Wales office in Cardiff.
Swansea University staff are also in the USS but their ballot did not meet the minimum 50% turnout required by the Trade Union Act 2016.
Universities set up after 1992, many of which evolved from polytechnics, use the Teachers Pension Scheme which is state funded, whereas the USS is funded by member universities and the staff.
University responses:
Bangor University said it was keen for a rapid negotiated settlement to the dispute, and was doing everything it could to reduce any possible impact by the strike but the university remained open.
Aberystwyth University said its focus was on "safeguarding students' learning experience", and that UUK was leading negotiations and it respected the right of individual members of staff to go on strike.
A Cardiff University spokesman said it was doing everything possible to ensure there is minimal impact on teaching and learning.
Strike dates
22-23 and 26-28 February
5-8 and 12-16 March