There is a lot of hype surrounding Vijender Singh's ninth pro boxing bout against China's Zulpikar Maimaitiali on Saturday, July 5, in Mumbai.
The ongoing border tensions between India and China has also added a new colour to the boxing match, dubbed as "Battleground Asia" in which the undefeated boxers will face off.
The fight will see the winner taking it all as two titles are involved — Vijender is the reigning World Boxing Organisation (WBO) Asia Pacific Super middleweight champion and Maimaitiali is the WBO Oriental Super middleweight champion.
Vijender has made good use of his "Rockstar" persona during the lead-up to the match and has done a great deal of trash talk as well. Not just that, the 30-year-old former Olympic bronze medalist has also invited quite a few celebrities, including Sachin Tendulkar, to cheer and back him.
However, Vijender will be missing his family at the venue as his wife, Archana Singh, and son Abir will skip the highly-anticipated bout. The Bhiwani boxer reveals his wife, whom he married in 2011, is not much into boxing. However, Archana, according to the boxer, will keep praying for his success.
"My wife is not into boxing, she is very much into pooja-paath. And my boy is celebrating his birthday tomorrow [Thursday]," Vijender said while speaking about his family's absence on Saturday, DNA reported.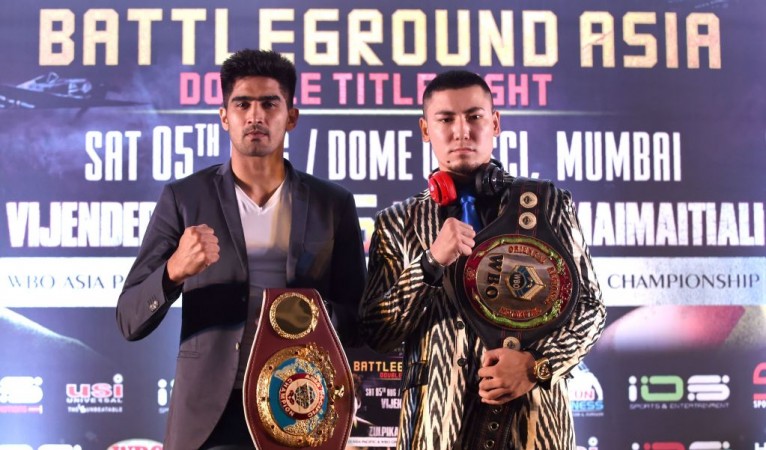 WBO Asia-Pacific Super Middleweight champion Vijender Singh (L) and his competitor WBO Oriental Super Middleweight champion China's Zulpikar MaimaitialiINDRANIL MUKHERJEE/AFP/Getty Images
Notably, Archana had revealed last year that she has not watched any of Vijender's boxing matches as she would not be able to see her husband taking punches in the ring.
Archana also said she believed Vijender would lose if she followed her partner's matches live and thus preferred to only watch snippets of the boxer's fights online.
"Boxing is such a sport where you win or lose, you still have to take punches. Being his wife, I can't watch that. Boxing is his passion and profession and I am fine with it. But I don't have to see him get hurt," Archana had told the Hindustan Times in 2016.
She added: "I have gotten a little bit superstitious that the outcome of the bouts might not go in Vijender's favour if I watch."